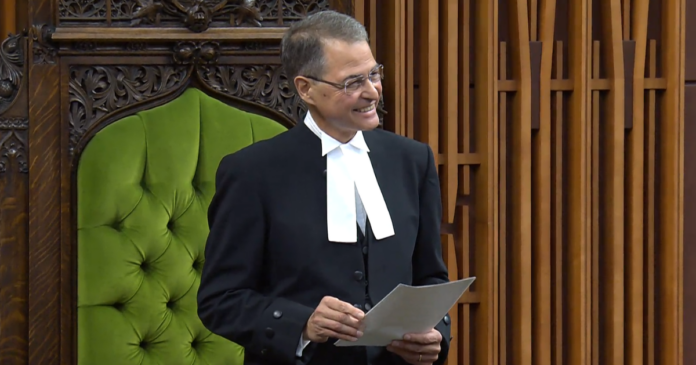 The NDP and Bloc Quebecois are calling for House of Commons Speaker Anthony Rota to resign after inviting and honouring a veteran who fought under the Nazi Waffen-SS Galicia Division in World War II.
Rota recognized 98-year old Yaroslav Hunka, who was sitting in the House of Commons gallery at Rota's invitation, as "a Ukrainian hero, a Canadian hero," prior to Ukrainian President Volodymyr Zelenskyy's address to parliament.
Anthony Rota is a Liberal MP and the current speaker of the House of Commons.
Hunka, a resident of Rota's northern Ontario riding of Nipissing—Timiskaming, received a standing ovation from MPs and dignitaries in the House of Commons on Friday.
NDP house leader Peter Julian called for Rota's resignation in a point of order Monday morning, saying that the episode was an "unforgivable error" and that "a sacred trust has been broken."
"It's for that reason, for the good of the institution of the House of Commons that I say, sadly, I don't believe you can continue in this role. Regrettably, I must respectfully ask that you step aside," said Julian.
Bloc Quebecois leader Yves-François Blanchet said "we invite the Speaker of the House to act responsibly and relinquish his office" in a statement provided to the media.
Rota apologized in a statement on Sunday for his recognition of Hunka, reiterating it verbally in the House of Commons Monday morning.
Rota's initial statement said he had "subsequently become aware of more information" that has made him "regret" his decision to invite Hunka. In the statement, Rota also said that he extends his "deepest apologies to Jewish communities in Canada and around the world."
He also took full responsibility for the decision, acknowledging that recognizing Hunka was entirely his own initiative.
"I wish to make clear that no one, including fellow parliamentarians and the Ukraine delegation, was aware of my intention or of my remarks before I delivered them," he said.
"I accept full responsibility for my actions," he concluded.
Opposition parties have accused the Liberal government of not doing its due diligence when it comes to vetting guests.
"This is an appalling error in judgment on the part of Justin Trudeau, whose personal protocol office is responsible for arranging and vetting all guests and programming for state visits of this kind," Conservative leader Pierre Poilievre tweeted on X.
"Mr. Trudeau must personally apologize and avoid passing the blame to others as he always does," added Poilievre.

"There was a guest in the gallery whose presence fed into the Russian propaganda and narrative about the bogus justification for Putin's illegal invasion." said Conservative MP Andrew Scheer in the House of Commons on Monday.
"But there are still many, many questions that need to be answered as to how the Prime Minister's office so completely dropped the ball on this," said Scheer.
Liberal MP Karina Gould said that she and many others were unaware of Hunka's past.
"Mr Speaker, I would just like to respond to my honorable colleague because I think we both share the frustration about what happened on Friday," said Gould.
"But I do want to reiterate. And as you have made very clear in your statement, Mr Speaker, that this was your initiative, the government of Canada had no knowledge of this individual coming to the government had no knowledge. The speaker is responsible for this chamber. He invited him of his own accord and he made the decision himself to recognize him. Neither the government of Canada nor the delegation of Ukraine had any knowledge of this," she said.
NDP leader Jagmeet Singh, said that his party will be dealing with their concerns directly with the government "about how this was allowed to happen." Singh released a statement saying that, "He was not a guest of the NDP and we were not aware of his background or association with the Nazi regime in World War 2."