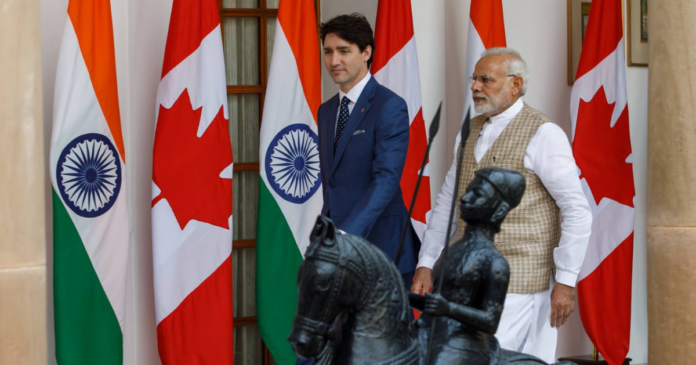 Experts warn that if the growing dispute between Canada and India leads to a trade war, the consequences will be far worse for the Canadian economy than for India's.
Tensions between the two countries have been mounting since Prime Minister Justin Trudeau's explosive allegations against the Indian government.
In a speech to the House of Commons last Monday, Trudeau said there were "credible allegations potentially linking" agents from the Indian government to the murder of a Canadian Sikh activist, Hardeep Singh Nijjar.
Indian officials denied the allegations as both countries responded by expelling each other's diplomats. Federal Trade Minister Mary Ng cancelled an upcoming trade discussion with India.
While Canadians are unlikely to see any immediate effects of this dispute at the grocery store, a leading food researcher says further escalation could lead to devastating consequences for the Canadian economy if India sanctions imports from Canada.
"India isn't a major distributor of food globally nor is it a major trading partner with Canada," said Sylvain Charlebois, a professor at Dalhousie University who researches food distribution, safety and security.
"Even if India bans the export of rice to Canada, the cost of rice shouldn't increase, because Canada has other options like Thailand to purchase from."
However, sanctions against imports from Canada on the other hand could prevent billions of dollars worth of goods from going to India, Charlebois said.
He fears India might be going in that direction.
"Canada sends $12 billion dollars worth of materials to India annually, and has already shifted to India from China. If Canada doesn't secure its own interests there won't be any potential for economic growth," Charlebois said.
India was Canada's tenth largest trading partner last year, according to Global Affairs Canada, making up a large share of Canada's agriculture market.
Canada is a world leader in the production of pulse crops which include peas, lentils, beans and chickpeas, with the majority produced in Saskatchewan.
Last week, Saskatchewan Trade and Export Development Minister Jeremy Harrison told Ng, after her cancelled trip, that damage to trade relationships with India will financially hurt Saskatchewan more than other provinces.
"Saskatchewan exports to India usually rank first or second amongst the provinces and territories and are worth over $1 billion to our provincial economy. In fact Saskatchewan trade with India accounts for 30 to 40 per cent of all Canadian trade with India in any given year," Harrison said in the letter.
Canadian exports to India were over $5 billion during 2022, according to the United Nations database on international trade.
Pulse crops and potash fertilizer are Canada's second and third largest exports to India. Canada's largest export to India is crude oil and its related products.
India is a key player in the Indian pacific partnership and is well positioned to find other countries to purchase from, said Charlebois.
Canada will have a hard time finding another market as large as India and might find itself isolated, as other countries seem to be staying out of the dispute, he added.
Nijjar, a Sikh activist who was designated a terrorist by the Indian government for his involvement in the Khalistani separatist movement, was shot dead outside a Sikh gurdwara in Surrey, B.C. in June.
India temporarily halted all visa services in Canada, and issued an advisory warning Indian nationals and students in Canada of "anti-Indian activities."
In turn, Canada updated its travel advisory for India to include warnings about "negative sentiments" towards Canadians.