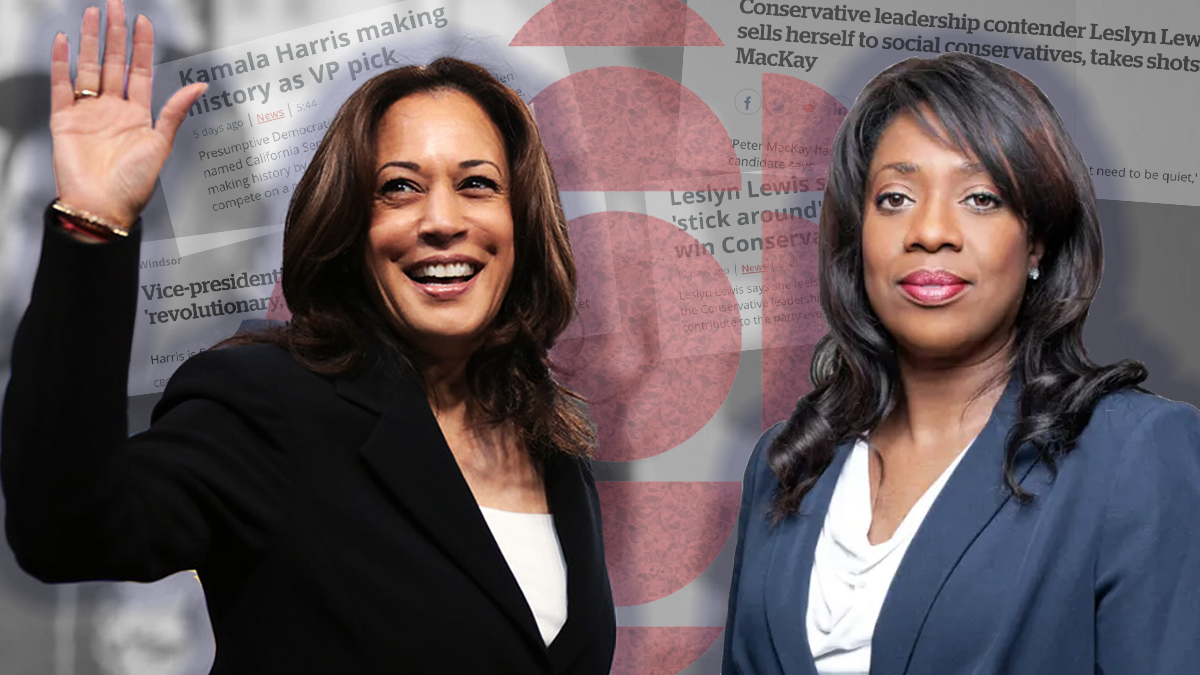 Canada's state broadcaster has given far more coverage to American Democrat vice-presidential nominee Kamala Harris than it has to Conservative leadership candidate Leslyn Lewis, a True North review reveals.
Data show Harris netted 500% as many headlines from CBC mentioning her name than Lewis did since the Conservative leadership race commenced on January 13, 2020, with some going so far as to laud Harris' for "making history" as a woman of colour.
As of August 17, CBC had published 45 different headlines referencing Harris, while only nine for Lewis.
To achieve this count, True North tallied search results from CBC's website. The final results include all English language media content published by the national broadcaster, including from CBC News, CBC Radio and other affiliates.
Lewis and Harris have both made history as the first black females to run for their respective positions.
Headlines featuring Harris referred to the VP pick as "making history" and "revolutionary," while mentions of Lewis included headlines about how she "sells herself" to social conservatives and what she would do if "she doesn't win" the race.
CBC's imbalanced coverage of the two historic candidacies seems to contradict its mandate as set out in the 1991 Broadcasting Act.
According to the Act, CBC programming should "be predominantly and distinctively Canadian, reflect Canada and its regions to national and regional audiences, while serving the special needs of those regions."
True North reached out to CBC for comment on whether its unequal coverage of Lewis was a violation of its mandate.
"On very short notice, a quick search of cbc.ca came up with 127 mentions of Dr. Lewis. We did full interviews with her on The House and on Power and Politics. In late July, through our Conservative pundit Kory Teneycke, we were the first media organization to identify Leslyn Lewis as the big story coming out of this leadership campaign," said CBC's Head of Public Affairs, Chuck Thompson before linking to an article on Lewis dated to July 29th which was included in our count.
A similar search for the term "Kamala Harris" on CBC's website turned up 794 mentions, which is a considerably higher rate of coverage than Lewis received when going by these metrics.
However, this article only counted unique headlines which directly referenced either individual due to the fact that CBC's search engine produced unreliable results and turned up false positives which made no mention of either individual upon further investigation.
"We will be running another profile of Leslyn Lewis on The National, Power & Politics and online this week in our run up to Sunday's leadership vote," Thompson told True North.
In the last week alone, CBC dedicated 32 different headlines on Harris, while Lewis only received three mentions.
Critics of the national broadcaster have accused the platform of prioritizing progressive and Liberal figures like Harris while disadvantaging Conservatives like Lewis.
Earlier this month, CBC was accused of breaking its own ethics code after it failed to disclose that pundit Amanda Alvaro was on the Liberal's payroll as a government contractor.
Conservative leadership contestant Erin O'Toole also recently criticized the public broadcaster for cutting a portion of a CBC radio interview in which he discussed defunding and privatizing the crown corporation.
"I did an interview with CBC Radio, but they edited out the question where they asked me about my plan to defund the CBC. Seems the CBC doesn't want Canadians to hear my answer," tweeted O'Toole.