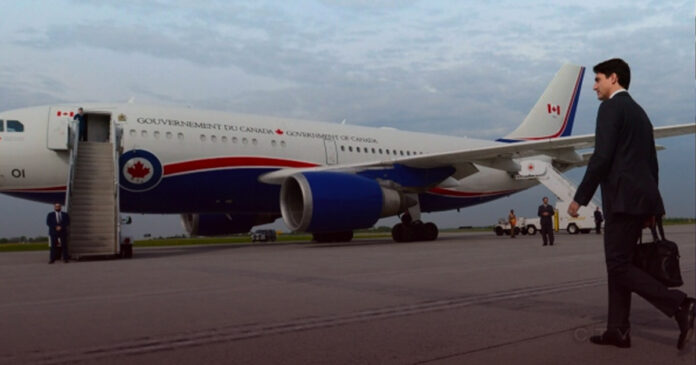 According to documents obtained by the Post Millennial, Prime Minister Justin Trudeau racked up massive catering bills while jet setting around the world in 2018 – and taxpayers had to pay for it. 
176 pages of invoices released through access to information requests revealed large bills for catering on Trudeau's state trips, including $412 for hot towels and $285 for Belgian waffles.
The largest catering invoice totalled $23,000 for a four-day visit to Latvia and Belgium.
Bills have also included a wide variety of single-use plastic items and bottles despite the government's crusade against these products.
In another bill, later that year the government spent $17,044 to fly celebrity chef Vikram Vij to India to cook Indian food in 2018. Trudeau's state visit to India cost taxpayers $1.6 million.
"It does not send a good message to the public if politicians are racking up big travel and food expenses while regular Canadians are struggling," said Aaron Wudrick of the Canadian Taxpayers Federation.
Since his election in 2015, Prime Minister Justin Trudeau's personal and travel costs have been subject to scrutiny.
On Trudeau's first two state trips as prime minister, the government spent $1,300 per person on food and drink, around 30% more per meal than in the Harper government.
"I'm just not sure anybody's minding the store when it comes to remembering that it's taxpayers who are on the hook for all these things," Conservative MP Blaine Calkins said at the time, noting that the average Canadian makes less than $1,300 in two weeks. 
We're asking readers, like you, to make a contribution in support of True North's fact-based, independent journalism.
Unlike the mainstream media, True North isn't getting a government bailout. Instead, we depend on the generosity of Canadians like you.
How can a media outlet be trusted to remain neutral and fair if they're beneficiaries of a government handout? We don't think they can.
This is why independent media in Canada is more important than ever. If you're able, please make a tax-deductible donation to True North today. Thank you so much.