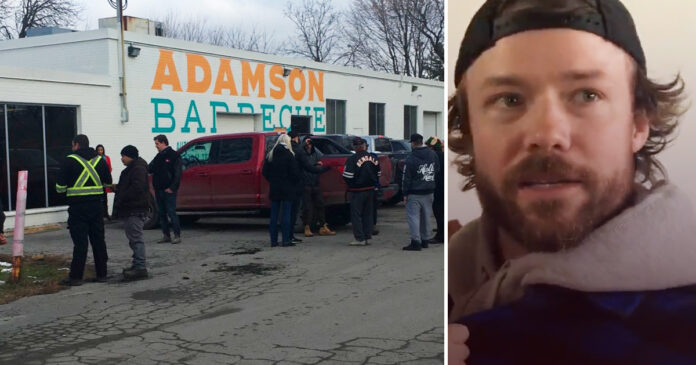 A Toronto BBQ restaurant owner opened his doors to indoor dining despite the new coronavirus lockdown measures imposed on the province by Ontario Premier Doug Ford.
Adam Skelly, who owns and operates Adamson Barbecue at 7 Queen Elizabeth Blvd. in Etobicoke, announced that he would be opening his business to the public beginning on Tuesday morning.
"For anybody who's a fan of freedom and sovereignty, the right to choose what you wear, where to go, who to have over at your house, what businesses you can go to, I would love to meet you," said Skelly in a video posted to Instagram on Monday.
A video from Tuesday purportedly shows Skelly slamming the mainstream media for painting the situation in an unfair light.
"It's completely biased journalism that don't show both sides of the story, they try to vilify anybody who's not talking the mainstream narrative, I don't want them here. I want people who are going to show both sides of the story, full disclosure reporting," Skelly is seen as saying.
Police and bylaw officers arrived on site of the restaurant shortly after the restaurant opened its doors but did not confirm whether fines were issued for breaking provincial health orders.
"By the sheer number of people that are here right now, we don't have the ability to go and physically remove everyone at this point and it would be unsafe to do so," said Toronto police Insp. Tim Crone.
"We understand the level of frustration (about another lockdown), however, the overriding consideration always has to be public safety."
On Tuesday afternoon, the City of Toronto issued a statement indicating that Toronto's Medical Officer of Health is ordering Adamson Barbeque to close and is also investigating the restaurant for other alleged violations.
Last week, the Toronto and Peel regions were plunged into a lockdown by Ford over a concerning spike in coronavirus case numbers.
The new measures banned indoor and outdoor dining and to only serve customers via take-out, drive-through or delivery. Indoor social gatherings are also prohibited except for members of the same household. Outdoor public social gatherings have now also been limited to a maximum of 10 people at one time.
"They have to follow the rules. There can't be rules for one group and not the other … If we let everyone open we're going to be in worse shape," said Ford about Adamson Barbacue.
"I can't get angry at any businessperson right now, they're hurting."