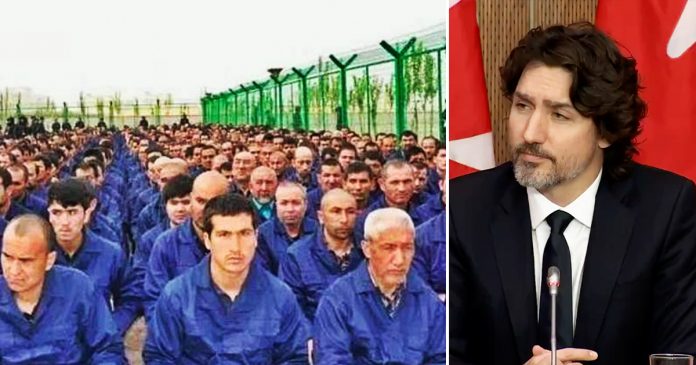 Prime Minister Justin Trudeau refused to label China's mass-internment of the Uyghurs a genocide on Tuesday.
Trudeau called the designation "extremely loaded" and that it should be properly justified before being applied to the situation but maintained that it's a course of action that Canada should be pursuing. 
"First of all, on determinations of genocide… The principles of international law and the international community in general I think rightly takes very very seriously the label of genocide and needs to ensure that when it is used it is clearly and properly justified and demonstrated so as not to weaken the application of genocide in situations in the past," said Trudeau.
"That's why it's a word that's extremely loaded and is certainly something that we should be looking at in the case of the Uyghurs."
The prime minister has been facing increased pressure from the official opposition and Uyghur rights groups to take a harder stance on China's ongoing human rights abuses.
Over the weekend, newly-appointed Minister of Foreign Affairs Marc Garneau said the Liberal government has yet to determine whether China's actions constituted a genocide.
"I don't know what the situation is with respect to that," said Garneau during an appearance on CBC's Power & Politics.
"That will be a government position. I don't have a position on that at this point."
The prime minister himself also stopped short of applying the term earlier this month but did "acknowledge" the US government's decision to classify China as complicit in an ongoing genocide.
In 2019, following the tabling of a report into the disappearances of missing and murdered Indigenous women and girls, Trudeau accepted the finding that the incidents amounted to an act of "genocide."
"We accept their findings, including that what happened amounts to genocide," said Trudeau at the time.
"There are many debates ongoing around words and use of words. Our focus as a country, as leaders, as citizens must be on the steps we take to put an end to this situation."
We're asking readers, like you, to make a contribution in support of True North's fact-based, independent journalism.
Unlike the mainstream media, True North isn't getting a government bailout. Instead, we depend on the generosity of Canadians like you.
How can a media outlet be trusted to remain neutral and fair if they're beneficiaries of a government handout? We don't think they can.
This is why independent media in Canada is more important than ever. If you're able, please make a tax-deductible donation to True North today. Thank you so much.