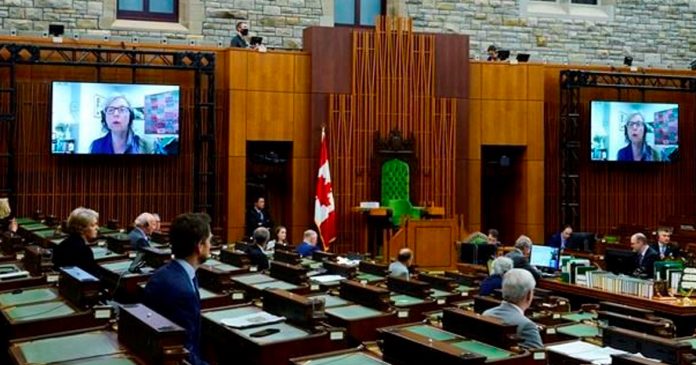 While many Canadians struggle with unprecedented unemployment and sky-rocketing debt as a result of government-enforced lockdowns, members of parliament are set to receive a raise on Thursday.
On April 1, MPs will receive an automatic raise of around 1.8% which is based on similar average raises negotiated with major corporate unions. Currently, MPs receive a base salary of $182,000 annually, while cabinet ministers receive $269,800.
Prime Minister Justin Trudeau will receive an estimated raise of $6,400 added to his current salary of $365,200.
The Canadian Taxpayers Federation (CTF) slammed the government for not stopping the automatic raises, which they estimate will be around $3,200 for ordinary MPs.
"Our MPs should know that a pandemic and severe economic downturn is the worst possible time to be padding their pockets with a pay hike," said CTF Alberta Director Franco Terrazzano.
"Millions of Canadians have been struggling with COVID-19 for more than a year now, so it's long past time for our MPs to get off their butts and put an end to their automatic pay increases."
Since the pandemic began, Canadians have struggled with unprecedented unemployment, with 834,000 less Canadians employed in January 2021 than there were in January 2020. The economic effects of the pandemic have been prolonged by a year of lockdowns.
In addition, small businesses in Canada had to take on extreme levels of debt in order to sustain themselves since the beginning of the pandemic.
While some politicians are accepting wage increases while many Canadians suffer, others are voluntarily reducing their salary. In Alberta, MLA Drew Barnes has committed to giving 20% of his salary to charity until lockdowns are lifted.
The CTF noted that after the 2008 recession, the Harper government paused automatic salary raises for MPs for three years.
"This shouldn't be rocket science: our MPs should be able to figure out a way to stop the automatic pay hikes during a severe economic downturn," said Terrazzano.
"This second MP pay raise during COVID-19 is a slap in the face to the many taxpayers who have taken a pay cut, lost their job or their business."