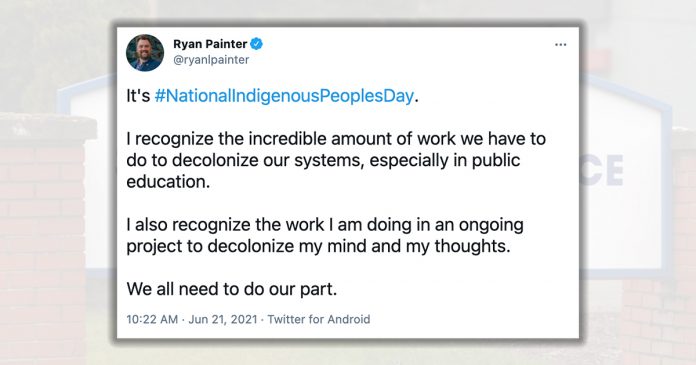 A school trustee with the Greater Victoria School District claimed that he was working on decolonizing his "mind and thoughts" for National Indigenous People's Day, while also calling on people to do their part in decolonizing public education.
"I recognize the incredible amount of work we have to do to decolonize our systems, especially in public education," tweeted Trustee Ryan Painter.
"I also recognize the work I am doing in an ongoing project to decolonize my mind and my thoughts. We all need to do our part."
National Indigenous People's Day is celebrated on June 21st every year as a way to recognize the diversity of cultures and contributions that First Nations and Indigenous people have made to Canada.
True North reached out to Painter to ask him to clarify what he meant by decolonizing "thoughts and minds" but did not receive a response by the deadline. 
According to British Columbia's Office of the Human Rights Commissioner (BCOHCR), "decolonization" entails the "ongoing process of recognizing and removing colonial powers."
"Decolonization is the dismantling of the process by which one nation asserts and establishes its domination and control over another nation's land, people and culture," writes the BCOHCR.
"It is the framework through which we are working toward undoing the oppression and subjugation of Indigenous peoples in what is now known as British Columbia and unlearning colonial ways of thinking and being."
Recently, Victoria city council unanimously voted to cancel its Canada Day celebrations citing the apparent discovery of human remains near a former residential school in Kamloops. According to Victoria Mayor Lisa Helps, hosting the event would interfere with reconciliation efforts. 

Instead of celebrating Canada's national holiday, councillors supported having a day of reflection on reconciliation.
We're asking readers, like you, to make a contribution in support of True North's fact-based, independent journalism.
Unlike the mainstream media, True North isn't getting a government bailout. Instead, we depend on the generosity of Canadians like you.
How can a media outlet be trusted to remain neutral and fair if they're beneficiaries of a government handout? We don't think they can.
This is why independent media in Canada is more important than ever. If you're able, please make a tax-deductible donation to True North today. Thank you so much.