The Interior Health Authority (IHA) has violated the privacy of more than 100,000 British Columbia residents.
The IHA targeted unvaccinated individuals and sent letters that displayed recipients' vaccination status outside the envelope. The personal health information has now been compromised without the recipients' consent.
Many unvaccinated citizens have complained about the letters.
Leader of the BC Libertarian Party Keith MacIntyre was one of the recipients of the IHA letter and expressed concern. Worried that the privacy breach could lead to personal conflicts, MacIntyre said that vaccination status "shouldn't be emblazoned on the front of the envelope." 
The letters were written by the Provincial Health Officer of BC Dr. Bonnie Henry. In the letter, she tells recipients that "Interior Health Staff are saving a vaccine for you… I'm hoping we can count on you."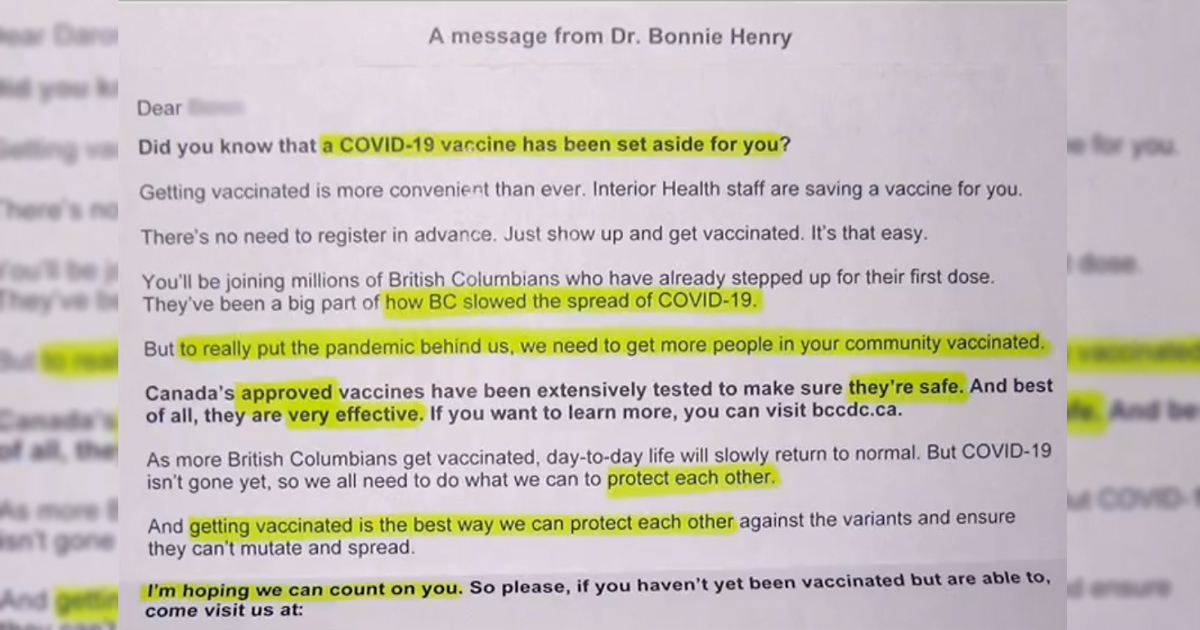 The IHA told Castanet Media that they "worked with provincial partners to send letters to postal codes in communities with lower vaccination rates. The intent of the letter was to inform eligible people that the first and second doses of vaccines are available to them."
Despite the vaccination status being clearly visible on the outside of the envelopes, IHA claimed that "receipt of a letter in no way indicates a person's immunization status, as we recognize that some recipients will have already received their first or second dose prior to receiving the letter, or may not be able to be immunized for medical or other reasons."
This isn't the first time BC residents' personal health information has been compromised during the COVID-19 pandemic. In June 2021, the BC government posted a tweet that asked citizens to disclose the names of their unvaccinated friends and family publicly.
"There are consequences for people who are not immunized," said Henry at a BC COVID-19 update on July 27, 2021.
One consequence may be segregation based on vaccination status. As it stands, BC and the federal government have said vaccine passports will not be mandatory to access public services. However, Henry appears to support businesses instating vaccine requirements for customers.
"If I was running a nightclub, I'd want to make sure my staff are protected. And yes, we can absolutely say, 'to come in here you have to be immunized," Henry said.
We're asking readers, like you, to make a contribution in support of True North's fact-based, independent journalism.
Unlike the mainstream media, True North isn't getting a government bailout. Instead, we depend on the generosity of Canadians like you.
How can a media outlet be trusted to remain neutral and fair if they're beneficiaries of a government handout? We don't think they can.
This is why independent media in Canada is more important than ever. If you're able, please make a tax-deductible donation to True North today. Thank you so much.