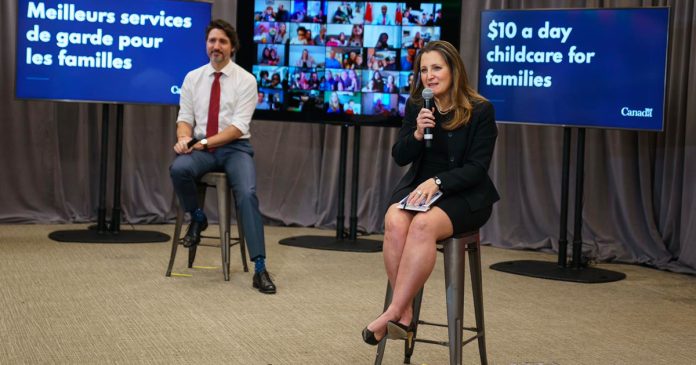 There appears to be no end in sight for the Trudeau government's pandemic spending spree.
In the first two months of its fiscal year, the federal government ran a deficit of $23.8 billion, according to the Finance Department's regular fiscal monitor.
While the government points out that the $23.8 billion budgetary deficit is a significant drop from the $86.8 billion recorded over the same months in 2020 – when the pandemic first began and the government started implementing various COVID-19 support programs – critics are wondering when the government will reduce spending.
"Of course it's good to see a smaller budget gap but this is still a massive deficit so the feds shouldn't be patting themselves on the back," said the Federal Director with the Canadian Taxpayers Federation Franco Terrazzano.
"We need to make sure all the temporary and costly COVID spending remains temporary because taxpayers can't afford a repeat of 2020."
Canada's federal debt surpassed $1 trillion dollars this year following a frenzy of pandemic spending by the ruling Liberal government. Further, in its latest budget, the government revealed a whopping deficit of $354 billion with no plan to pay down the debt and balance the books.
"Unfortunately, the Trudeau government doesn't seem to be taking the $1-trillion debt problem seriously because we continue to see massive spending announcement after massive spending announcement," said Terrazzano.
In its most recent Fiscal Sustainability Report, the Parliamentary Budget Office (PBO) warned that the federal government will not return to a balanced budget until 2070 if politicians do not curb spending.
In its estimate, the PBO says the government is projected to tack on an additional $2.7 trillion in debt before balancing the budget in 2070. Interest charged will cost Canadians approximately $3.8 trillion by 2070.
We're asking readers, like you, to make a contribution in support of True North's fact-based, independent journalism.
Unlike the mainstream media, True North isn't getting a government bailout. Instead, we depend on the generosity of Canadians like you.
How can a media outlet be trusted to remain neutral and fair if they're beneficiaries of a government handout? We don't think they can.
This is why independent media in Canada is more important than ever. If you're able, please make a tax-deductible donation to True North today. Thank you so much.