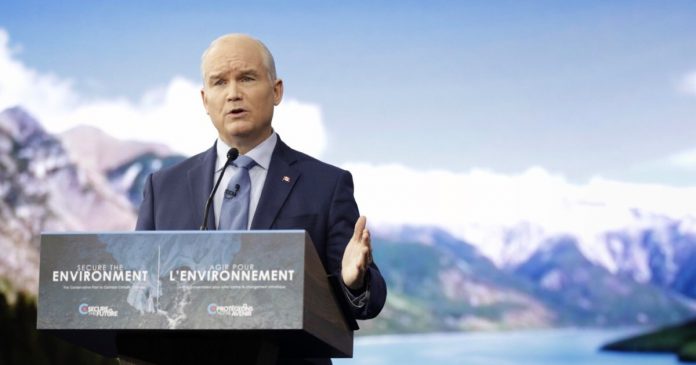 Canadians prefer Conservative Party Leader Erin O'Toole over other federal leaders when it comes to managing the economy.
According to an August 5, 2021 poll by the Angus Reid Institute, O'Toole leads on the following issues: the deficit/government spending, the economy and energy or natural resources.
The Angus Reid Institute was founded as a "non-partisan public opinion research foundation" and regularly conducts polls on Canadian politics.
The poll surveyed 1,605 Canadians online from July 30 – August 3 on their views on federal politics. In comparison a poll of similar probability size would carry a margin of error of +/- 2.5 %.
With regard to curbing the federal government's ballooning deficit, 32% of Canadians said O'Toole would be the best suited to tackle the issue, while only 17% believed the Liberals had the ability to reduce government spending. Meanwhile, only 10% of Canadians had confidence in the NDP to do the same.
 As for the economy at large, 31% of those polled picked O'Toole as their top choice to steer Canada's finances. The Liberals followed behind with 22% of respondents and the NDP came in third place with 11%. 
On the issue of natural resource development and pipelines, 28% said that they believe O'Toole was the best suited to deal with the issues, while 17% picked the Liberals. On the other hand, 14% of Canadians said that the NDP would be suited to deal with the matter.
Despite the positive views towards the Conservatives' ability to handle economic matters, the Liberal Party of Canada continues to lead in electability.
Angus Reid researchers found that 35% of those polled would vote for the Liberals, while 30% said they would cast their ballot for the Conservatives, followed by 19% indicating they will vote for the NDP.
Although support for the Liberals remains high, many Canadians are expressing doubt in Prime Minister Justin Trudeau's abilities.
A recent online poll by Leger, revealed that 49% of Canadians were either dissatisfied or very dissatisfied with Trudeau's performance.