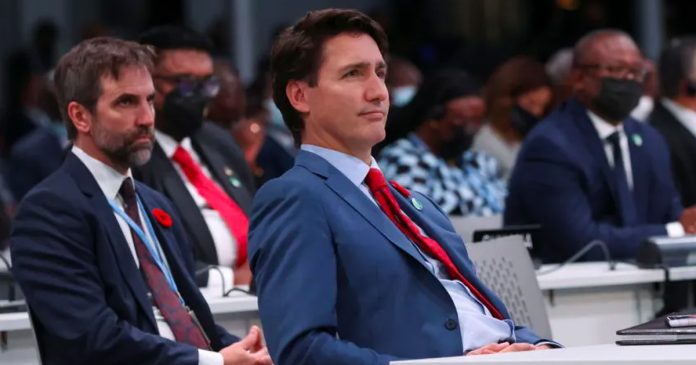 The Liberal government won't reveal how much taxpayers spent on sending 276 delegates and members of the media to Glasgow, Scotland.
According to Blacklock's Reporter, among those who attended include former environment minister Catherine McKenna who travelled to the event as a VIP. The Department of Environment refused to say if McKenna's expenses were covered by taxpayers.
"Canada has taken steps to ensure diverse perspectives are reflected in international forums," department spokesperson Samantha Bayard told Blocklock's Reporter.
McKenna is not listed on the official delegate list according to the outlet, however, she was spotted attending meetings at COP26.
Among those attending alongside Prime Minister Justin Trudeau include Environment Minister Steven Guilbeault, Deputy Environment Minister Thelma Hogan, Assistant Deputy Minister Catherine Stewart, Climate Change Ambassador Patricia Fuller and Climate Change Director Joanna Dafoe. They are also accompanied by 25 advisors and negotiators.
Trudeau's personal photographer, videographer and speechwriter also travelled to Glasgow with the prime minister. His entourage was also accompanied by 17 press secretaries and communications directors and four CBC reporters.
Two elected Green Party MPs also got to attend.
While at the conference, Prime Minister Trudeau pledged on Monday that he would cap emissions for Canada's oil and gas sector.
"We will limit oil and gas sector emissions today and ensure they decrease tomorrow at the speed and scale needed to reach net zero by 2050," Trudeau told global leaders in a short speech.
In response to the announcement, Alberta Premier Jason Kenney told reporters on Tuesday that the idea was "totally unrealistic" and that his province was never consulted on the matter.
"I don't know why they would make such an announcement without consulting the province with the most oil and gas reserves in Canada," Kenney said.
"Their approach seems to be, well it's totally unrealistic, and their approach, if they were to actually achieve their targets without using these transition technologies, would be devastating to the entire global economy."
We're asking readers, like you, to make a contribution in support of True North's fact-based, independent journalism.
Unlike the mainstream media, True North isn't getting a government bailout. Instead, we depend on the generosity of Canadians like you.
How can a media outlet be trusted to remain neutral and fair if they're beneficiaries of a government handout? We don't think they can.
This is why independent media in Canada is more important than ever. If you're able, please make a tax-deductible donation to True North today. Thank you so much.