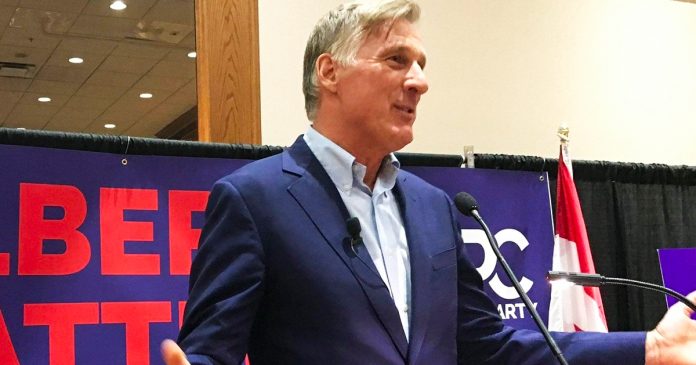 People's Party of Canada (PPC) Leader Maxime Bernier had his leadership confirmed on Sunday, concluding the review process launched last month.
PPC members were asked to vote whether they supported Bernier remaining as leader.
There were 15,454 members who voted, and the leadership review had a voter participation rate of 57.5%. Bernier received the support of 95.6% of members.
"I am extremely proud to know I have the support of the vast majority of our members," Bernier said. "I believe this vote signals a strong unity within our party around the principles and policies that I have been defending since its founding." 
Bernier said the PPC has grown much over the last three years but that the party is just getting started. He stated he has huge plans for the PPC in the next Canadian election and that he is excited to start working with this new mandate.
The leadership review was conducted online in partnership with third-party firm Simply Voting. The process took place between Nov. 12 and Dec. 3. All PPC members with active memberships on Sept. 20 were permitted to vote.
Bernier said in an interview with True North journalism fellow Andrew Lawton that he felt it was time to have a leadership review because the PPC had lost the last two elections.
"I'm very pleased," he said. "It was a good result, and now we're ready for the future."
Bernier added he believes it is important for him to win a seat in the next election. He was unsure about where he is going to run, but he plans on choosing a riding where there is a high probability of him winning.
The 2021 election saw the PPC triple its vote share from 2019. Despite winning about 5% of the popular vote, the PPC did not win any seats. The party faced accusations of being a "spoiler" in select Conservative ridings. 
We're asking readers, like you, to make a contribution in support of True North's fact-based, independent journalism.
Unlike the mainstream media, True North isn't getting a government bailout. Instead, we depend on the generosity of Canadians like you.
How can a media outlet be trusted to remain neutral and fair if they're beneficiaries of a government handout? We don't think they can.
This is why independent media in Canada is more important than ever. If you're able, please make a tax-deductible donation to True North today. Thank you so much.