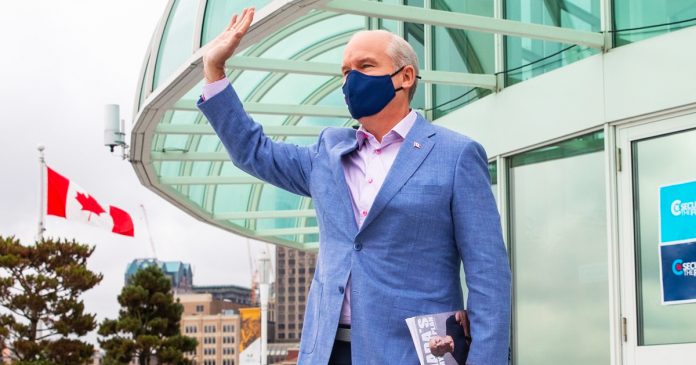 New numbers show that Conservative Leader Erin O'Toole's favourability has plummeted since he failed to unseat Prime Minister Justin Trudeau in the 2021 election.
According to a recent poll by the Angus Reid Institute, the Conservative leader's support has fallen across the board, including among the party faithful.
As of Friday, O'Toole's favourability among Canadians dropped to a measly 24%, while his peers NDP Leader Jagmeet Singh and Bloc Quebecois Leader Yves-Francois Blanchet enjoyed 52% and 46% support, respectively. 
When it comes to support from his own party's base, O'Toole's favourability has dropped to 59%.
This decline among supporters is particular to the Conservative Party of Canada (CPC), the poll's researchers write. In comparison, other major party leaders seem to have galvanized their supporters following the election, while O'Toole lags behind.
"This diminished internal standing is unique to O'Toole and CPC voters," the findings read "Supporters of other major federal parties are much more likely to hold their respective leaders in higher esteem."
Currently, Trudeau enjoys 81% favourability among Liberals, Blanchet has 87% favourability among his base and Singh has the support of 91% of NDP voters.
O'Toole is even more disliked than his predecessor Conservative MP Andrew Scheer, who in December 2019 had the support of 81% of his party.
When it comes to federal voting intentions, the Conservatives came in second place with 29%, compared to 35% for the first-place Liberals.
One place where the Conservatives seem to be leading is among young male voters between the ages of 18 and 34. There, the Conservatives have the highest voter intention with 34% saying they would vote for a CPC candidate.
Since failing to gain any additional seats in 2021, O'Toole has faced a growing movement of people within his party who want to see him face a leadership review.
In November, O'Toole ejected Senator Denise Batters from the Conservative caucus after she launched a petition calling for an early autopsy on his performance.
Since then, a group titled Members Vote has formed to expedite the process and has allegedly received over 7,000 signatures from CPC members.