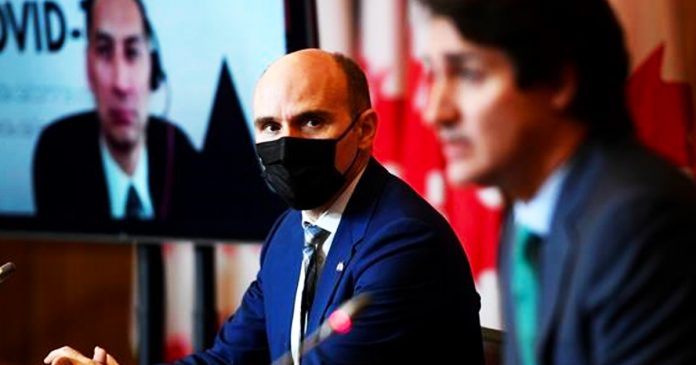 The Liberal government is now proposing to force millions of unvaccinated Canadians to receive COVID-19 shots against their wills.
On Friday, Liberal health minister Jean-Yves Duclos announced that the federal government wanted to have "conversations" with provincial and territorial governments about making vaccines mandatory for Canadians.
"Fifty per cent of hospitalizations now, in Quebec, are due to people not having been vaccinated. That's a burden on health care workers, a burden on society which is very difficult to bear and for many people difficult to understand," said Duclos.
"That's why I'm signalling this is a conversation which I believe provinces and territories, in support with the federal government, will want to have over the next weeks and months."
As of Jan. 7, 2022, government data shows that nearly nine million Canadian men, women and children have not been fully vaccinated against COVID-19.
Statistics Canada data also shows that the groups with the highest rates of "vaccine hesitancy" include First Nations, black Canadians, minorities and other groups who traditionally have a distrust of government.
A survey by Angus Reid Institute also found that Indigenous Canadians and minorities were more likely to refuse the COVID-19 shot than others.
"Indigenous Canadians are twice as likely as those who don't identify as visible minorities to have refused to get vaccinated," pollsters wrote.
"Data here suggests there remains a lack of confidence in the safety of the vaccine with three in five, 58%, saying they have ongoing health concerns when it comes to vaccination."
Canada has never proposed mandatory vaccination in the past despite struggling with polio, flu, cholera and other viral outbreaks.
Prime Minister Justin Trudeau also stated in a May 2021 interview that Canada would never force people to be vaccinated.
"We're not a country that makes vaccination mandatory," said Trudeau.
Since Duclos' announcement, several premiers including Alberta's Jason Kenney and Saskatchewan's Scott Moe have said no to mandatory vaccination.