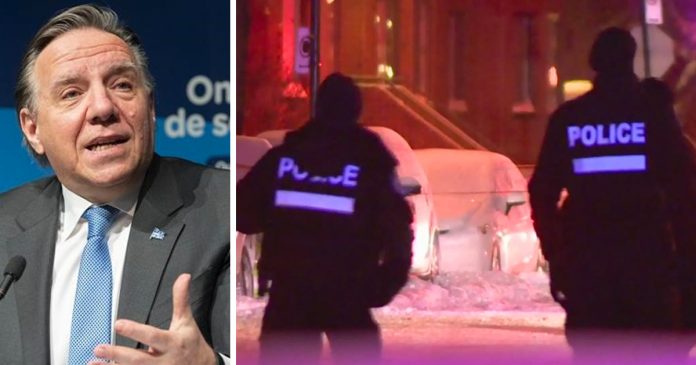 A group of academics has written a scathing open letter to the Quebec government in opposition to "ineffective and harmful" curfews.
In December, Quebec premier François Legault imposed a province-wide curfew from 10 p.m. to 5 a.m. in response to the COVID-19 Omicron variant.
The thirteen academics who signed the document called for the government to reverse course, saying that curfews were an inappropriate tool to deal with the virus.
"Despite what the Legault government … will say in the media, we have several reasons to doubt that the curfew is an appropriate tool to manage a pandemic," the letter claimed, "even if the sledgehammer effect to which it is associated with giving the government an undeniable impression of 'taking action."
Those who signed the letter included Jean-Sébastien Fallu, Ph.D., Associate professor, School of psychoeducation, Université de Montréal, and researcher at the Centre de recherche en santé publique and Vincent Duclos, Professor in the Social and Public Communications Department at UQAM among others.
The letter also blasted curfews for being ineffective in reducing spread when compared to provinces that have not introduced curfews.
"In addition, the peak of the second wave was reached long before the curfew could take effect, the reproduction rate falling below the value of 1 as of Dec. 29, 2020," the signatories wrote. "What is more, the epidemiological curves followed the same pattern in the other Canadian provinces, which did not impose a curfew."
"In short …no effect of the curfew was visible."
"Harm reduction and education around the risks associated with indoor contact, accompanied by available tools (N95 masks, rapid tests, air purifiers) and promoting empowerment, this should take precedence over control, repression and drastic measures, with the potential to produce effects contrary to those expected or collateral damage for certain segments of the population."
Despite the call for a more sensible approach, Premier Legault announced Tuesday that Quebec would be making COVID shots mandatory under threat of financial penalties.
"There are consequences on our health care network and it's not up to all Quebeckers to pay for this," said Legault.
Legault did not specify how much the charge would be, saying only that it would be "significant."
Legault announced Quebec's mandatory vaccination policy less than 24 hours after Quebec's public health director Horacio Arruda resigned, citing "an erosion of public support" over government pandemic restrictions.
We're asking readers, like you, to make a contribution in support of True North's fact-based, independent journalism.
Unlike the mainstream media, True North isn't getting a government bailout. Instead, we depend on the generosity of Canadians like you.
How can a media outlet be trusted to remain neutral and fair if they're beneficiaries of a government handout? We don't think they can.
This is why independent media in Canada is more important than ever. If you're able, please make a tax-deductible donation to True North today. Thank you so much.