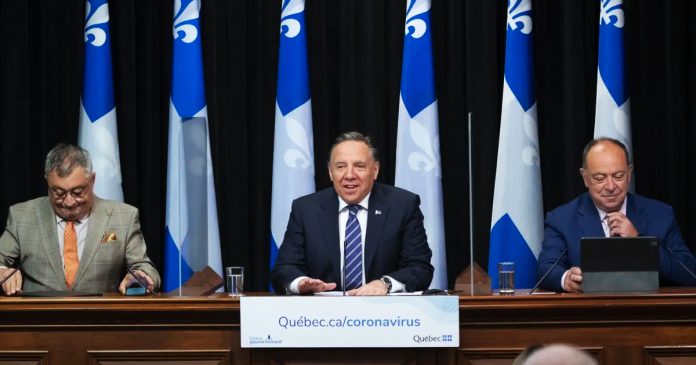 The Canadian Civil Liberties Association (CCLA) has denounced the Quebec government for its plan to financially punish people who have not gotten COVID shots.
"Premier Legault is taking the unprecedented step of taxing Canadians based on their personal medical choices," said CCLA lawyer and spokesperson Cara Zwibel in a statement on Tuesday. "He is proposing a direct penalty for being unvaccinated- compelling individuals to undergo medical treatment."
Zwibel said that allowing the Quebec government to put fines on people who disagree with its recommended medical treatment is "a deeply troubling proposition." To justify this tax, she said, Quebec needs to "provide clear and compelling evidence and demonstrate that there were no other reasonable alternatives."
Zwibel added that the tax was an equity issue. Despite Canada having universal public health care, she said the country does not fine people who make poor diet and exercise choices nor those who participate in high-risk occupations and recreational activities.
Some unvaccinated people face barriers to accessing health care, Zwibel argued, and many of them do not trust the health care system because of past negative experiences.
"This is a divisive measure that will end up punishing and alienating those who may be in most need of public health supports and services," she said. "The government should abandon this divisive and constitutionally vulnerable proposal."
Quebec Premier Francois Legault announced Tuesday that unvaccinated people would be forced to pay a health fee. Premier Francois Legault said the fee has not been determined but that it would be "significant."
"I think right now it's a question of fairness for the 90% of the population who made some sacrifices," said Legault. "I think we owe them this kind of measure."
We're asking readers, like you, to make a contribution in support of True North's fact-based, independent journalism.
Unlike the mainstream media, True North isn't getting a government bailout. Instead, we depend on the generosity of Canadians like you.
How can a media outlet be trusted to remain neutral and fair if they're beneficiaries of a government handout? We don't think they can.
This is why independent media in Canada is more important than ever. If you're able, please make a tax-deductible donation to True North today. Thank you so much.