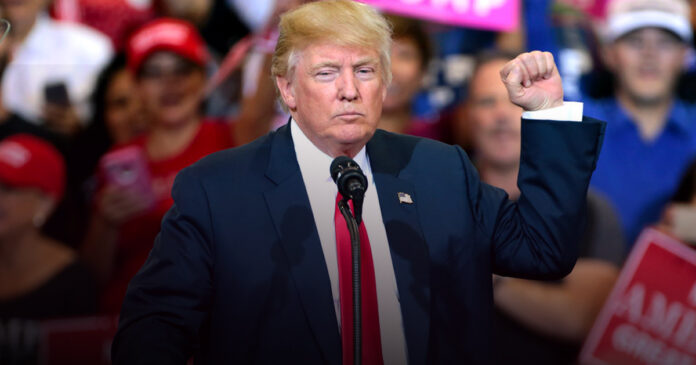 Former US president Donald J. Trump told a rally in Conroe, Texas that Americans stood behind the Truckers for Freedom Convoy for resisting COVID-19 mandates and defending freedom.
"It's true, the Canadian truckers – you've been reading about it – who are resisting bravely these lawless mandates and are doing more to defend American freedom than our own leaders by far, and we want those great Canadian truckers to know that we are with them all the way. They've really shown something," Trump told a cheering crowd of supporters.
Attempts by the legacy media to paint the convoy and its adherents as extremists have failed as international figures have rallied to support the movement.
Trump's support was preceded by that of his son Donald Trump Jr., who posted a video to his social media encouraging the Canadian truckers as they headed to Ottawa to protest Prime Minister Justin Trudeau's vaccine mandates and other restrictions.
Other figures including billionaire Elon Musk, podcaster Joe Rogan and actor Rob Schneider have also thrown their hats behind the truckers. True North has published an exclusive list of celebrities who have raised their voices in public support.
"Trudeau may have to redefine what a "small fringe minority" is… It's stretching from Manitoba to Ontario!" said Schneider in mockery of an earlier statement by Trudeau.
Since the convoy reached Ottawa, Trudeau has been whisked away by security to a "secret location" over apparent fears that the protest could turn dangerous.

Despite the media smears, however, protest organizers have cooperated with police and have said that any instigators were not welcome in the convoy. 
The protests are expected to continue throughout the weekend as the tail end of the nation-wide convoy makes its way towards its final destination in the nation's capital.
We're asking readers, like you, to make a contribution in support of True North's fact-based, independent journalism.
Unlike the mainstream media, True North isn't getting a government bailout. Instead, we depend on the generosity of Canadians like you.
How can a media outlet be trusted to remain neutral and fair if they're beneficiaries of a government handout? We don't think they can.
This is why independent media in Canada is more important than ever. If you're able, please make a tax-deductible donation to True North today. Thank you so much.