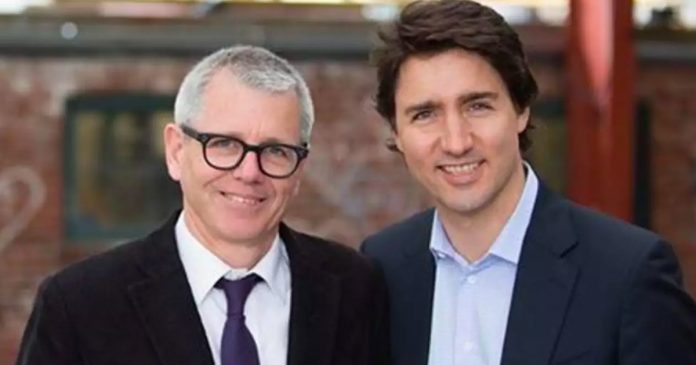 Former Liberal MP Adam Vaughan has called for Fox News to be taken off the air in Canada for its supportive coverage of the Freedom Convoy.
In a tweet on Wednesday showing a clip from Tucker Carlson Tonight, Vaughan claimed that the American news network served as the gold standard for Conservative Party of Canada MPs wanting to talk to their base, saying "this is the show they lineup to get on."
Vaughan went on to say that Fox was the Freedom Convoy's "biggest amplifier" and that consequently Fox News "should be returned to its country of origin."
Vaughan had retweeted a post from the left-wing page MediasTouch, accusing Fox News host Tucker Carlson of supporting the Russians.
Vaughan's tweet comes after CNN hosts including Brian Stelter have advocated for social media platforms to restrict Fox's reach, as well as petitions calling for Fox's removal.
With Russia Today now booted off Canadian television, Vaughan's call for a similar ban on Fox News has received backlash from Twitter users.
One user points out Vaughan's impulse to censor voices that don't agree with him.
Makes sense, censor, censor, censor untill the only journalistic voice available is the one you find acceptable. 🙄

— SiriusTam ♋🇨🇦 (@Tameracher20) March 2, 2022
Another user points out that the news station amplified a peaceful protest and that other legacy media networks have done the same thing.
Heaven forbid they amplified a peaceful protest. So did most of the Canadian news networks. Until the government that pays their wages decided to change the narrative
Then the lap dogs quickly got in line with the copy/paste articles. Thank fox for news that has substance.

— Thranth (@Thranth1) March 2, 2022
The Freedom Convoy appeared prominently on various Fox News programs during the convoy protest's three weeks in Ottawa. Some highlights included host Tucker Carlson interviewing organizer Benjamin Dichter as well as Carlson criticizing Prime Minister Justin Trudeau's response to the peaceful demonstrations.
Blacklock's Reporter reported that MPs at the Commons heritage committee voted on Monday to require the Canadian Radio Television Commission (CRTC) to prevent "state-controlled broadcasters" from airing in Canada.
"Will you be pushing for action on disinformation from networks in other countries?" asked a reporter.
"I think it's a good question and one we should absolutely and are indeed reflecting on," said Trudeau.
Despite this, the Trudeau government has not signalled any intention to designate Fox News a "state-controlled broadcaster."
We're asking readers, like you, to make a contribution in support of True North's fact-based, independent journalism.
Unlike the mainstream media, True North isn't getting a government bailout. Instead, we depend on the generosity of Canadians like you.
How can a media outlet be trusted to remain neutral and fair if they're beneficiaries of a government handout? We don't think they can.
This is why independent media in Canada is more important than ever. If you're able, please make a tax-deductible donation to True North today. Thank you so much.