In recent weeks Prime Minister Justin Trudeau has repeatedly lauded the merits of democracy despite the fact that his governing record shows a repeat pattern of ruling by decree and bypassing the House of Commons.
Most recently, Trudeau's comments have come within the context of the Russian invasion of Ukraine. Just last week, while travelling through Europe, Trudeau affirmed his commitment to standing up for democracies everywhere.
"As Russia continues its unwarranted and unjustifiable attacks on Ukraine, Canada is standing united with our European allies in supporting Ukraine and the Ukrainian people, as well as democracy and human rights everywhere," said Trudeau.
A few days later while in Germany, Trudeau also stated that democracy has always been stronger than authoritarianism.
"Vladimir Putin is undoubtedly a threat to Ukrainians, and to people outside their borders. Even as we are clear-eyed about the challenges he presents, we mustn't despair," Trudeau told the Munich Security Conference. "Democracy is always stronger than authoritarianism."
Although Trudeau preaches democracy abroad, the Liberal government has shown few qualms about using less-than-democratic methods and technicalities to get its way. These include orders in council, public health mandates and the prime minister's unprecedented use of the Emergencies Act.
True North has compiled a number of occasions Trudeau and the Liberals have ruled by decree instead of following the democratic process.
Pressuring the Attorney General to interfere in the justice system
In 2019 it was revealed that the prime minister and senior members of his staff and cabinet worked to pressure former justice minister and attorney general Jody Wilson-Raybould into interfering in the criminal proceedings against SNC-Lavalin.
Trudeau and his officials were found to have attempted on several occasions to pressure Wilson-Raybould into offering the company a deferred prosecution agreement.
Although Trudeau originally denied the allegation, an investigation by Ethics Commissioner Mario Dion found that the prime minister had broken conflict of interest laws by attempting to politically interfere in the case.
As a result of the scandal, Wilson-Raybould and former cabinet minister Jane Philpott were expelled from the Liberal caucus.
Evading debate on the gun ban by using an Order in Council
Despite record opposition to the Liberal government's plans to ban the possession of a swathe of firearms by law-abiding gun owners, Trudeau skirted the usual legislative process by issuing an order in council.
Through the order in council – which effectively made over 1,500 kinds of guns illegal – Trudeau was able to bypass debate in the House of Commons as well as any study of the proposed bill. Many law enforcement officials also spoke out against the effectiveness of the gun ban, but the Liberals did it anyway.
COVID-19 public health mandates
Although not the only politician to use public health orders and mandates during the COVID-19 pandemic, Trudeau has – unlike the premiers – refused to offer a timeline for lifting the federal restrictions that continue to affect Canadians from coast to coast.
Using a public health emergency, Trudeau has barred unvaccinated Canadians from boarding planes or trains domestically and internationally. Canada is the only nation in the world to have taken such drastic steps.
Trudeau also used public health orders to fire unvaccinated public sector workers employed by the federal government or working in federally-regulated industries. Additionally, the Liberals ordered the Canadian Armed Forces to implement a similar mandate whereby unvaccinated soldiers including Afghan war vets faced dishonourable releases from their service.
Invoking the Emergencies Act to quash protestors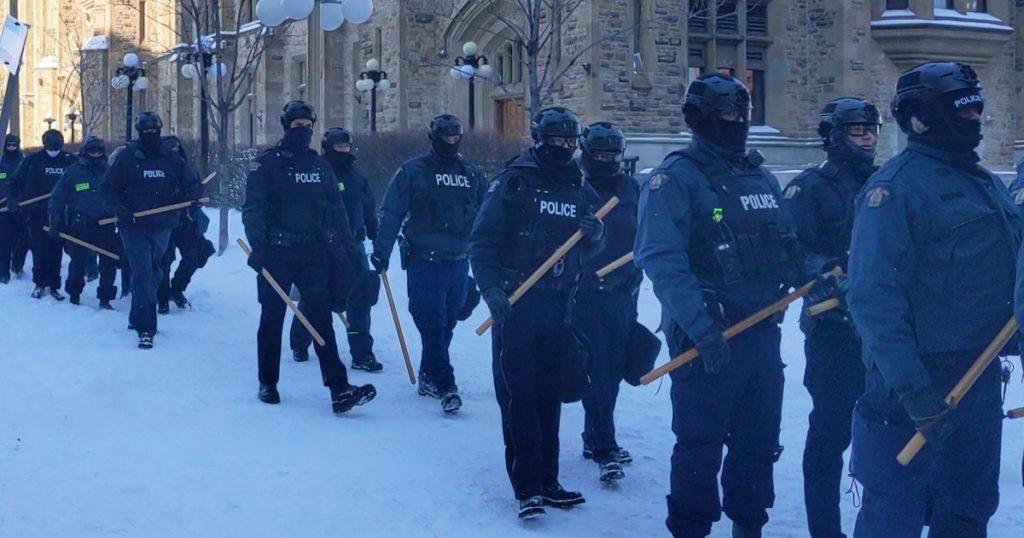 Trudeau's unprecedented use of the Emergencies Act to quash peaceful freedom convoy protesters in Ottawa in February was his latest example of ruling over Canadians by decree.
Trudeau invoked the act on Feb. 14 and did not seek parliamentary approval for the measure until after a joint police force had ended the Ottawa demonstrations. The government also assumed powers to have the accounts of convoy protesters and donors frozen.
Civil liberties groups and critics have called the move unjustified and a dangerous precedent that could see other legitimate protests declared illegal.
Currently, Parliament is conducting an inquiry into Trudeau's use of emergency powers and whether they were warranted or a breach of the act's scope. 
Proroguing parliament
In 2020, the prime minister shut down parliament as it was investigating his dealings with WE Charity. Trudeau prorogued parliament at the height of the scandal after it was revealed that members of his family had received half a million dollars for speaking engagements before the Liberal government awarded the charity a sole-sourced federal contract.
The prorogation not only disrupted ethics committee investigations but also undermined Canada's ability to investigate China's ongoing human rights abuses via the committee on Canada-China relations.