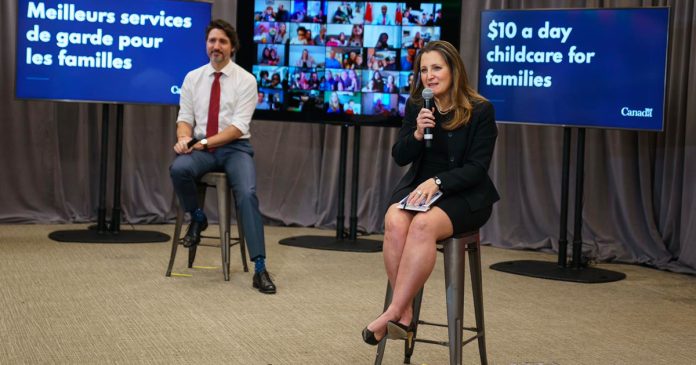 Despite the legacy media's campaign to portray the 2022 Liberal budget as modest, comparisons show that it eclipses even Trudeau's past spending.
The Liberals have projected that they will spend $452.3 billion this year, vastly exceeding pre-pandemic spending in 2019 by $89.4 billion.
In 2018, the Liberals also projected total spending worth $338 billion – $114 billion less than what they've budgeted to spend in 2022.
Despite these facts, economic pundits and journalists with legacy outlets including the National Post, the Toronto Star and the CBC would have Canadians believe that the Liberals had put forward a fiscally conservative spending plan on Thursday. 
According to the CBC, Finance Minister Chrystia Freeland tabled a "lower-spending budget" that cut deficits.
"To that end, Freeland tabled a relatively thin 280-page budget — 500 fewer pages than last year's document — that is much more focused on a few key areas than Liberal budgets of the recent past. The budget allocates only $31.2 billion in net new spending over the next five years — a fraction of the sums in recent budgets," claimed the CBC.
Thursday's budget projects that the deficit will reach $52.8 billion, down from the $154 billion estimated last year. However, this doesn't take into account that in 2019, the actual deficit was $39.4 billion. The year prior, it was $14 billion.
In reality, the Liberals announced $56 billion in new spending – not the $31 billion figure Freeland and others have floated. That number takes into account new taxes collected from financial institutions. 
The Toronto Star's Tonda MacCharles called it the "most conservative budget" tabled by the Trudeau Liberals to date.
"The 2022 federal budget is perhaps the most conservative one the Trudeau Liberals have ever produced, and yet it will survive with the support of New Democrats despite drawing outrage from Conservatives in Parliament," MacCharles said.
Meanwhile, National Post's John Ivison referred to the budget as "prudent and responsible," even going so far as to suggest Conservatives will like it.
"What was widely expected to be an NDP budget turns out to be one that will appeal to many Conservatives," he wrote on Thursday.
Looking back at former prime minister Stephen Harper's last year in power, the Conservatives at the time had a billion dollar surplus in 2015 despite spending $298 billion that same year. 
We're asking readers, like you, to make a contribution in support of True North's fact-based, independent journalism.
Unlike the mainstream media, True North isn't getting a government bailout. Instead, we depend on the generosity of Canadians like you.
How can a media outlet be trusted to remain neutral and fair if they're beneficiaries of a government handout? We don't think they can.
This is why independent media in Canada is more important than ever. If you're able, please make a tax-deductible donation to True North today. Thank you so much.