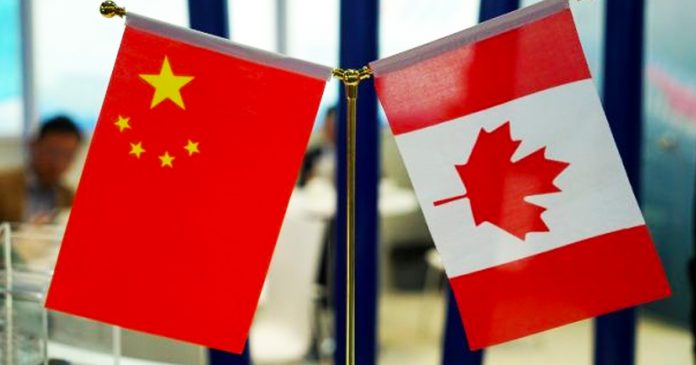 The Embassy of the People's Republic of China in Canada issued a statement on Friday morning calling the federal government's 5G network ban on Huawei and ZTE "political manipulation."
A spokesperson of the embassy said the Chinese government will take "all necessary measures" to ensure Huawei's legal rights are protected.
"The Chinese side expresses its grave concerns and strong dissatisfaction to this," wrote the spokesperson. "I want to emphasize that the erroneous actions of the Canadian side will certainly harm Canada's own interests and international image."
"China will evaluate this development in a comprehensive and serious manner and take all necessary measures to protect the legitimate and legal rights and interests of Chinese enterprises."
After spending years dragging their feet, the Liberal government announced yesterday that it would ban all Huawei and ZTE products and services from Canada's 5G network, citing national security concerns.
"We are announcing our intention to prohibit the inclusion of Huawei and ZTE products and services in Canada's telecommunications systems," said Minister of Innovation Francois-Philippe Champagne.
"This follows a full review by our security agencies and in consultation with our closest allies. We will always protect the safety and security of Canadians and we will take any actions necessary to safeguard our telecommunications infrastructure."
Up until this point, Canada was the only nation in the Five Eyes intelligence alliance that had not implemented a ban on either company.
Critics of China's involvement in Canada's networks have cited China's national security laws as a point of concern – laws that require companies to collaborate and share information with China's intelligence service.
"The state in China being what it is, even though Huawei is an independent company … [the government] would have the capacity to ask and demand Huawei's assistance in collecting intelligence," said former CSIS director War Elcock in 2020.
In its statement, the Chinese embassy refuted concerns about security, alleging that both companies had a "very good record" on security.
"Facts have proved that Huawei and ZTE have been maintaining a very good record on network security," the embassy claimed.
"Without any solid evidence, the Canadian side decided to exclude Huawei and ZTE from the Canadian market under the pretext of the so-called national security, which has flagrantly overstretched the concept of national security, blatantly violated market economy principles and free trade rules, and undermined the legitimate rights and interests of related Chinese enterprises."
We're asking readers, like you, to make a contribution in support of True North's fact-based, independent journalism.
Unlike the mainstream media, True North isn't getting a government bailout. Instead, we depend on the generosity of Canadians like you.
How can a media outlet be trusted to remain neutral and fair if they're beneficiaries of a government handout? We don't think they can.
This is why independent media in Canada is more important than ever. If you're able, please make a tax-deductible donation to True North today. Thank you so much.