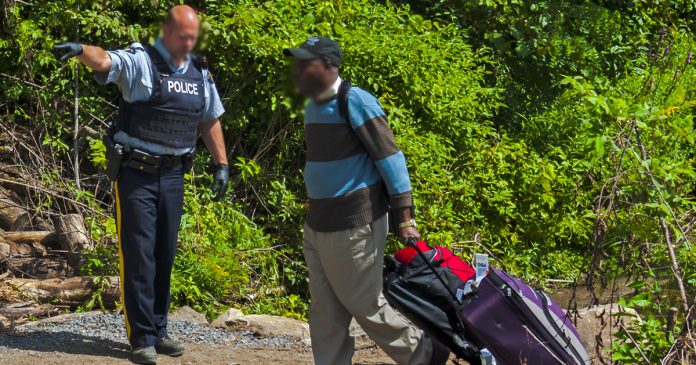 A Quebec MP has demanded to know why the Trudeau government ordered a quarter of the RCMP officers stationed in Quebec to chaperone illegal border crossers at Roxham Road rather than focus on gun trafficking.
Bloc Quebecois MP Alexis Brunelle-Duceppe put the question to Immigration and Refugee Minister Sean Fraser during a May 12 Commons immigration committee hearing.
"We have been told that a quarter of the Royal Canadian Mounted Police, or RCMP, officers deployed in Quebec are managing the Roxham Road instead of dealing with gun trafficking at the border," said Brunelle-Duceppe. "Minister, when will you ensure that the safe third country agreement is suspended?"
"It's essential, when we look at our domestic and international legal obligations, that we don't ignore the responsibility we have to enforce those laws. I expect what you're getting to is the engagement of the RCMP who may be involved with processing people who have crossed the border and claimed asylum."
The Safe Third Country Agreement governs how both Canada and the US deal with cross-border asylum applications.
Technically, asylum seekers from the US are supposed to be turned away at the Canadian border because the US is deemed a "safe country." Nonetheless, migrants have taken advantage of a loophole in the agreement that allows them to cross illegally in Canada via unauthorized crossings like Roxham Road and claim asylum at a Canadian immigration office.
According to Brunelle-Duceppe, talks between the US and Canada to modernize the Safe Third Country Agreement have stalled.
"Yesterday, the prime minister told us that the government was in discussions with representatives of the United States to modernize the agreement," she said. "According to the information I have obtained, these negotiations have stalled, and they are not a priority for your government.
"What is happening right now is very serious. The situation at Roxham Road has led to an increase in gun trafficking, and the Quebec market is flooded with illegal firearms. As we speak, people are dying. Criminal groups are taking advantage of the situation, since the RCMP cannot do its job properly."
"Can you tell us how soon you hope to sign this agreement and how long you think it will take? People are waiting for it," Brunelle-Duceppe later continued.
"I can reassure people that we're going to continue to work with our provincial counterparts on things like housing, healthcare and improving our asylum system while we continue to work towards modernizing the safe third country agreement," said Fraser.
"So this is not a priority for your government. Thank you," replied Brunelle-Duceppe.
"That's not true," said Fraser. 
To date Canada has taken in over 60,500 illegal border crossers who went on to claim asylum or refugee status.
Earlier this month, the Quebec government called on Ottawa to close Roxham Road, with the province struggling to deal with an influx of migrants as illegal crossings into Canada return to pre-pandemic levels.
Prime Minister Justin Trudeau has responded that closing the crossing would not curb the arrival of asylum claimants despite the fact that a vast majority of illegal entries take place at Roxham Road.
"If we close Roxham Road, people will cross elsewhere. We have an enormous border, and we're not going to start arming or putting fences on it," Trudeau told the media.
As reported by True North, immigration officials revealed in March that taxpayers were footing the bills for the hotel stays of illegal border crossers who did not meet federal COVID-19 vaccine requirements or who didn't have a quarantine plan upon arrival.
The expenses were revealed by Conservative MP Garnett Genuis in the House of Commons.
"To clarify, because I'm also out of time, the Government of Canada is paying for hotel rooms for pending asylum claimants who are unvaccinated?" asked Genuis.
"You are correct," responded Deputy Minister of Citizenship and Immigration Catrina Tapley.