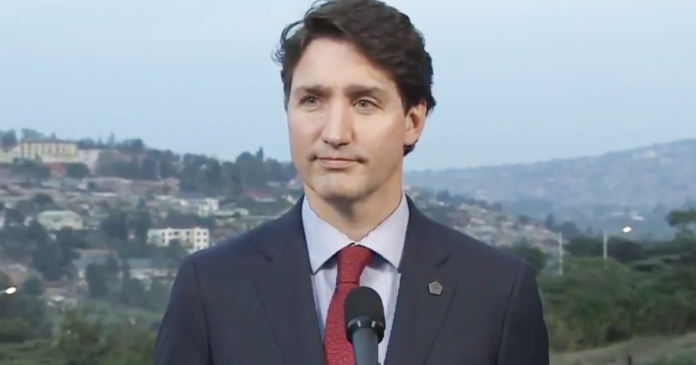 It is a sad day when your prime minister, so accomplished at setting up mournful moods and with a voice so smooth that it can easily bring on profound drowsiness, is again up to his neck in another scandal.
The man needs to get a grip on the truth.
The fact that Justin Trudeau resorts to dishonest rhetoric when caught dead in his tracks was first witnessed in full blossom during the SNC-Lavalin scandal when he refused early on to acknowledge the truth as published in the Globe and Mail – he was interfering in a Crown prosecution of the Montreal company.
Actually, he left most of it up to then-Public Safety Minister Bill Blair to uncomfortably deliver the false denials so many times that Blair's suit was likely in dire need of dry cleaning to rid it of the sweat stains.
It was collusion from the get-go.
Well, we all know how that ended. Justice Minister Jody Wilson-Raybould resigned, and everyone knew Trudeau was caught with his pants down.
Flash forward now to the RCMP investigation of the mass shooting in Nova Scotia where one gunman left 22 dead and Trudeau is (again) being accused of not telling the truth about the massacre being used for political purposes.
And dragged into the mess as co-conspirators with Trudeau are RCMP Commissioner Brenda Lucki and once again, Bill Blair – now the Minister of Emergency Preparedness.
One report that included testimony from Supt. Darren Campbell, who was the public face of the RCMP in Nova Scotia, and Lia Scanlan, the director of communications for the Mounties in the region, was particularly damning in linking the guns used to upcoming anti-gun legislation.
"The commissioner said she had promised the Minister of Public Safety and the Prime Minister's Office that the RCMP (we) would release this information," read the handwritten notes Campbell took at the time.
"I tried to explain there was no intent to disrespect anyone; however, we could not release this information at this time, the commissioner then said that we didn't understand that this was tied to pending gun control legislation that would make officers and the public safer."
Again, collusion from the get-go.
Scanlan told the inquiry that Trudeau and Blair were interfering, "weighing in on what we could and couldn't say."
She spoke of Lucki giving interviews to several media outlets shortly after the shootings, in which the commissioner provided an ever-increasing number of victims at a time when local RCMP officers were still trying to determine the total number of victims.
"That is 100% Minister Blair and the Prime Minister. And we have a commissioner that does not push back," Scanlan said in her February 2022 interview.
That makes two local RCMP staffers testifying against their boss, but, in the end, it didn't matter.
"Absolutely not. We did not put any undue influence or pressure. It is extremely important to highlight that is only the RCMP that determine what and when to release information," Trudeau told reporters in Rwanda, where he was partaking in the Commonwealth Heads of Government Meeting.
"The commissioner's statement, the minister's statement were very clear on that, and yes I still very much have confidence in Commissioner Lucki."
Just three days later, however, after Campbell said that Lucki made it clear she had promised certain information be released ahead of legislation being introduced, the Trudeau government acted — announcing that they were issuing an order in council effectively banning the AR-15 rifle and 1,500 other models from use in Canada.
As it anti-climactically turned out, however, the gunman's weapons were all smuggled in from the United States.
Mark Bonokoski is a member of the Canadian News Hall of Fame and has been published by a number of outlets – including the Toronto Sun, Maclean's and Readers' Digest.
We're asking readers, like you, to make a contribution in support of True North's fact-based, independent journalism.
Unlike the mainstream media, True North isn't getting a government bailout. Instead, we depend on the generosity of Canadians like you.
How can a media outlet be trusted to remain neutral and fair if they're beneficiaries of a government handout? We don't think they can.
This is why independent media in Canada is more important than ever. If you're able, please make a tax-deductible donation to True North today. Thank you so much.