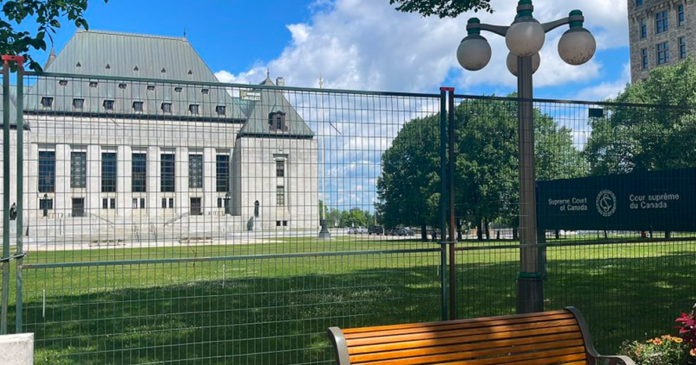 Security efforts have been beefed up in front of the Supreme Court of Canada and Parliament Hill ahead of freedom events planned for Canada Day.
Freedom organizers had planned events to welcome Canadian Armed Forces Veteran James Topp and in celebration of Canada Day, including a family picnic and music concert in front of the Supreme Court and a dance party on Parliament Hill.
Some attendees were also planning on camping outside of Parliament Hill.
Fencing has been installed around the Supreme Court lawn and the federal government has put up signs warning that camping is prohibited.
"No person shall occupy, reside, camp or sleep in or upon any public work or use any vehicle for the purpose of occupying a public work or residing, camping or sleeping thereon." reads a sign on the lawn of the Supreme Court.
The sign adds that "notice is hereby given requiring you to cease your activity, to remove your personal property from and quit the public work and to not thereafter resume the activity to which this notice applies."
When asked about the necessity of the enhanced security measures, a spokesperson for the Parliamentary Protective Service told True North that "our focus is on ensuring members of the general public has a safe event on Canada Day."
Chief Justice of Canada Richard Wagner had previously called for increased security around the Supreme Court of Canada.
"I hope the recent events in January (the Freedom Convoy) will bring authorities to consider the Supreme Court of Canada as an important building that must be protected," said Wagner.
The family picnic featuring James Topp that was set to take place in front of the Supreme Court is being moved to Strathcona Park, located in the Sandy Hill neighbourhood next to downtown.
There are still plans for a march and dance party to take place downtown.
Police will be restricting access to downtown Ottawa on Canada Day, as well as the days leading up to and after.
Vehicles that are "taking part in any form of demonstration, event, protest or rally" will be prohibited in the city's "motor vehicle control zone". Ottawa mayor Jim Watson also warned that there will be no tolerance for any illegal activity.
This will mark the third year of freedom events in downtown Ottawa for Canada Day. Similar rallies were held in 2020 in front of Parliament and in 2021 in front of the Supreme Court. No arrests or charges were laid as a result of the celebrations.
We're asking readers, like you, to make a contribution in support of True North's fact-based, independent journalism.
Unlike the mainstream media, True North isn't getting a government bailout. Instead, we depend on the generosity of Canadians like you.
How can a media outlet be trusted to remain neutral and fair if they're beneficiaries of a government handout? We don't think they can.
This is why independent media in Canada is more important than ever. If you're able, please make a tax-deductible donation to True North today. Thank you so much.