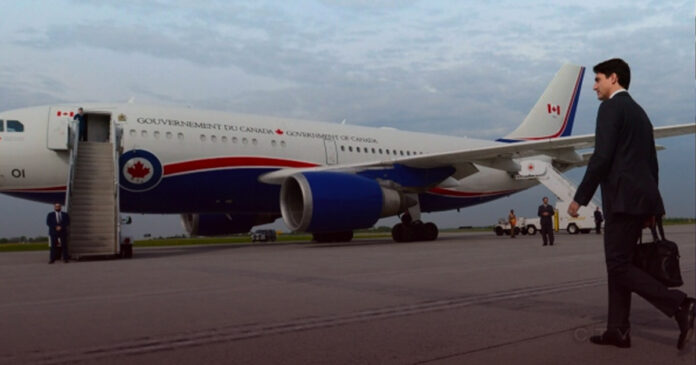 The Royal Canadian Air Force (RCAF) says it's looking to restrict public access to the real-time movement of Canadian Armed Forces (CAF) flights, including ones that carry the Prime Minister and the Governor General.
According to the Globe and Mail, no decision has yet been made by the RCAF, but investigations into flight-tracking websites are currently being made.
The head of media relations for the Department of National Defence Daniel Le Bouthillier said the RCAF is working with NAV Canada, Transport Canada and other partners to increase security of certain military flights.
"This includes potential measures to limit the visibility of RCAF aircraft on publicly accessible aircraft tracking platforms," said Le Bouthillier.
"Having the position and movements of our aircraft visible via tracking platforms is not a concern for the large majority of operational scenarios – for example, when conducting search and rescue operations, transport or transit flights, or routine training where there is no risk to operational security."
Le Bouthillier insists that if the RCAF moves forward with restricting access to the movement CAF flights, the information will "still be publicly available later."
"Passenger manifests could be obtained by access-to-information requests," Le Bouthillier said.
The matter first came to light when Jack Sweeney, a college student in Florida, who created the Twitter account "ElonJet" to track Elon Musk's private jet using publicly available air traffic data, published an email from the United States' Federal Aviation Administration (FAA) discussing a Canadian request to block call signs to aviation stakeholders to his Twitter account.
In the email, FAA analyst William Blacker told aviation stakeholders that "NAV Canada is working to improve operational security of some of their sensitive flight data. NAV Canada is pursuing additional options, but has requested several call sign combinations to be added to the Limiting Aircraft Data Displayed program Filter file."
The email also included a list of call signs that Canada wanted to block from real-time flight tracking including: CANFORCE, HUNTER, HUSKY, JUNO, MOLSON, ODIN, PATHFINDER, SONIC, VIMY, BUBBLY and any call signs between CANFORCE 1 to CANFORCE 9999.
In September 2021, Toronto Sun journalist Bryan Passifiume first reported on Trudeau's whereabouts when he spent the first National Day for Truth and Reconciliation in Tofino, BC with his family.
This was only made known through public flight tracking of the Prime Minister's plane as his itinerary said he was attending private meetings in Ottawa.
In October, Trudeau apologized to Kamloops, BC, Tk'emlúps Nation Chief Rosanne Casimir for his family vacation in Tofino.