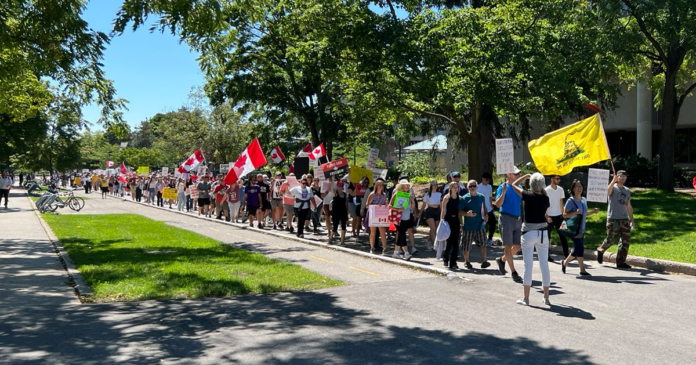 Hundreds of students, faculty members and community supporters descended on Western University's campus Saturday to urge the university to scrap its booster mandate.
The demonstration was organized this week after Western announced Monday that students, staff and campus visitors would have to have three doses of a Covid vaccine.
So far, Western is the only university in Canada to impose such a mandate on its entire campus community, though the University of Toronto is requiring students living in residences to be boosted.
The protest was organized by Enough is Enough Western, a student group created by Western student Kendra Hancock.
"The one thing that has inspired all of us to come together here today is knowing that we're not the only ones," Hancock said in her speech in front of Western's University Community Centre. "And now Western wants to put more people in that position and they haven't given us the reasoning. So today we stand for choice."
Other speakers included Haldimand-Norfolk acting medical officer of health Dr. Matt Strauss, retired McMaster infectious disease specialist Dr. Martha Fulford, and former Huron University College professor Julie Ponesse, who was fired from the Western-affiliated college last year for not complying with the original two-dose vaccine mandate.
Two Western students also spoke about the effects the mandate has had on them.
"Why we've arranged this rally, why we've arranged this protest, is to get Western to respect us as students for a change," said Western music student Hannah Salamon-Vegh. "We want them to listen to us. We pay their salaries. They work for us. We're not children."
In a statement Saturday morning, Western said it supported the right to peaceful protest but warned that the presence of outside groups was "potentially dangerous."
"We respect students' rights to peacefully protest on campus, and we are supporting them to do so safely," the statement said. "It has also come to our attention that groups not associated with our campus community are looking to use this peaceful protest as a platform to express their own grievances. We are concerned that this event will be used for reasons other than what our students have planned, creating a risk of it becoming disruptive and potentially dangerous."
Western's vaccine mandate has been criticized by a number of medical and public health experts, including Strauss, who warned that it "will hurt people."