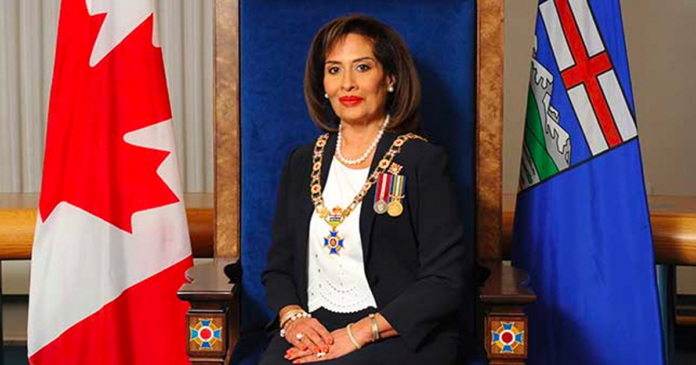 Alberta's Lieutenant-Governor Salma Lakhani is coming under fire for wading into the United Conservative Party (UCP) leadership race.
On Thursday, Lakhani told reporters her office would independently evaluate whether UCP leadership frontrunner Danielle Smith's Alberta Sovereignty Act was constitutional before signing it into law.
Asked about the Alberta Sovereignty Act, Lakhani said her office would cross the bridge when they get to it.
"And we will get the appropriate advice that we need, as to whether we can sign whether it's against our constitution," she said.
It's unprecedented for the Queen's representatives in Canada to comment on election processes or legislation. The representative is considered a ceremonial role.
Lakhani said her constitutional role is the most important part of her job and that Alberta must follow the rule of law.
Smith has pitched the act as means to bar federal legislation deemed harmful to the province. She said it would allow major energy projects to get built again, to evade federal vaccine mandates and to ignore federal gun control legislation.
In response to the Lieutenant-Governor's comments, the Smith campaign said she will work collaboratively with caucus to ensure the Sovereignty Act is drafted "in accordance with sound constitutional language and principles."
Lakhani said she's prepared for any backlash from people who believe she should solely play a ceremonial role.
UCP leadership candidate Brian Jean said he's "extremely uncomfortable" with the Lieutenant Governor getting political.
"That said, Danielle Smith's lack of clarity on this issue is already causing a constitutional crisis. To end this controversy, Smith must produce the text of the Sovereignty Act before UCP members vote," Jean wrote on Twitter.
Toronto Sun editor and True North contributor Anthony Furey said the Lieutenant Governor is attempting to interfere in the leadership race.
"Whatever you think of Danielle Smith's policy ideas, this is not OK."
But other UCP leadership candidates used the opportunity to pile on. 
Leela Aheer said the Sovereignty Act has resulted in a massive impact on investment certainty in Alberta months before it was even introduced. 
"The (Lieutenant-Governor) seeking expert advice on providing Royal Assent means we could be heading toward a constitutional crisis of our own making," Aheer wrote on Twitter.
"I'll say it again, Alberta shouldn't be looking for ways to LEAVE Canada, we need to be finding ways to LEAD Canada."
Contender Travis Toews said the comments demonstrate "the extraordinary legal and constitutional chaos that Danielle Smith's proposals could unleash."
"At this point, one thing is crystal clear. Alberta does not need this. We need jobs, opportunity, and stability," he wrote on Twitter.
Finance Minister Jason Nixon said the act is "problematic" and would be unlikely to be adopted by the Alberta Legislature.
"Going around and telling Albertans that you can accomplish something that you can't accomplish is very problematic long-term for our party," Nixon told reporters in June. "I'd rather see (candidates) under-promise and over-deliver."
Premier Jason Kenney also waded into the race to comment on Smith's proposal, which he called "nuts" and said would make Alberta a "laughingstock."
"The proposal is for Alberta basically to ignore and violate the Constitution in a way that is unprecedented in Canadian history," he said on his radio show last month. "The province should be focused on realistic, practical ways to fight unfair Ottawa policies."
We're asking readers, like you, to make a contribution in support of True North's fact-based, independent journalism.
Unlike the mainstream media, True North isn't getting a government bailout. Instead, we depend on the generosity of Canadians like you.
How can a media outlet be trusted to remain neutral and fair if they're beneficiaries of a government handout? We don't think they can.
This is why independent media in Canada is more important than ever. If you're able, please make a tax-deductible donation to True North today. Thank you so much.