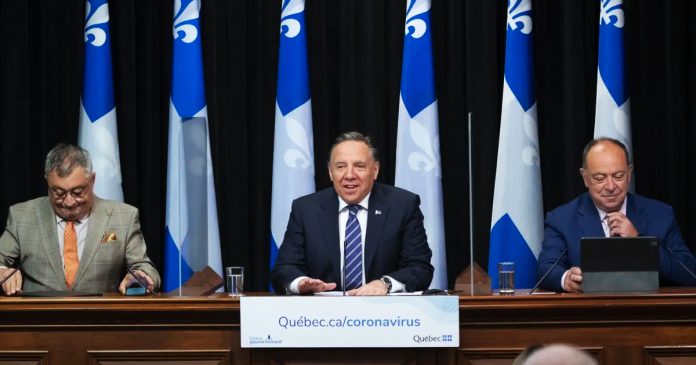 Quebec Premier Francois Legault is refusing to commit to never reimposing vaccine passports on Quebecers if he is re-elected premier on Oct. 3.
The Coalition Avenir Quebec (CAQ) leader made the comments while taking part in Radio Canada's "Cinq chefs, une election" TV special, which featured back-to-back interviews with Quebec's five major party leaders.
Radio Canada anchor Patrice Roy asked Legault in French if he would reimpose vaccine passports.
Legault said "It is not planned," claiming that "with the vaccine, this is fortunately not planned."
However, when Roy followed up and questioned if Legault was not excluding the controversial measure, Legault said "It is not in our plans, and we don't think we'll have to do it."
Legault urged Quebecers to keep up with their Covid-19 vaccination regimen, asking them to get a shot every five months.
True North reached out to Legault's CAQ party with questions regarding a future imposition of mandates, but they did not respond in time for publication.
Legault's lack of commitment came just days after Prime Minister Justin Trudeau warned about a return to mandates and restrictions if not enough Canadians got their boosters.
Trudeau said last week that "Covid isn't done with us yet" – claiming that "there is a real risk of a serious wave of Covid" as winter arrives.
"If we are able to hit that 80%, 85%, 90% of Canadians up-to-date in their vaccinations, we'll have a much better winter with much less need for the kind of restrictions and rules that were so problematic for everyone over the past years," said Trudeau.
Quebec was the first Canadian province to announce a domestic vaccine passport last year – banning the unvaccinated from certain parts of society for months.
However, the strict passport regime did not stop Legault from reimposing a lockdown and curfew during the holiday season amid fears of the Omicron variant.
In January, Legault expanded the range of his vaccine passport, making it the strictest in the country. The unvaccinated were banned from places of worship, liquor and cannabis stores as well as big box stores, including those selling essential items like groceries.
The Legault government had also announced intentions to change the vaccine passport requirement to three doses, and make vaccination mandatory with the threat of hefty fees.
Both policies never became reality amid backlash and the ongoing Freedom Convoy demonstrations taking place in cities across Canada.
Despite having imposed some of the strictest restrictions in the western world, polls say Legault is on track to being re-elected with an even bigger majority.