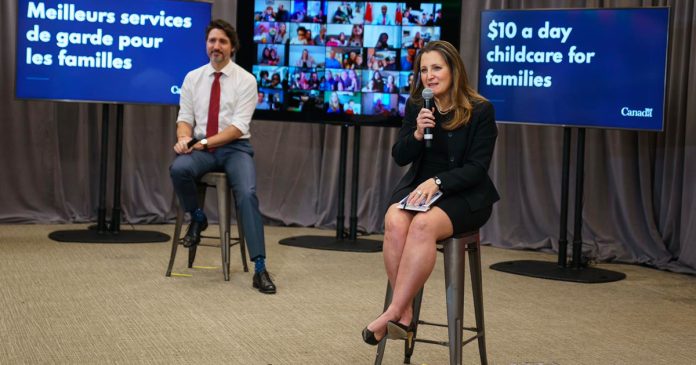 Despite the Trudeau government's propositions to alleviate inflationary pressure with several government measures, economists warn that the Liberals' proposals will worsen the inflation crisis.
According to Reuters, the Trudeau government is set to roll out monetary handouts targeted at Canadians who may be struggling with rising prices, including an increase in GST rebates for modest earners and a $500 benefit for homebuyers and renters.
However, economists predict that the government's impulse to take action may, in fact, result in a worsening of Canada's economic woes, adding fuel to the inflationary fire.
BMO senior economist Robert Kavcic acknowledges that Canadians are struggling to deal with high costs, but the government's strategy inherently contributes to those rising costs.
"We're not going to deny that there are households seriously in need of help right now in this inflationary environment. But, from a policy perspective, we all know that sending out money as an inflation-support measure is inherently … inflationary," said Kavcic.
CIBC economist Avery Shenfield questions the necessity of government largesse, saying that governments "taking action" can deepen economic woes.
"In a period of high inflation and excess demand, cutting taxes or handing out cheques can add fuel to the inflationary fire, and make the job of a central bank that's raising rates to cool demand all that more troublesome," said Shenfield.
"What concerns us is that federal and provincial governments in Canada are feeling tempted to 'do something' to help their constituents cope with high prices."
Shenfield advised federal and provincial governments to save surplus dollars for more troubling economic times as the risk of the economy sinking into a recession looms.
The Conservative Party of Canada's new leader Pierre Poilievre has blamed Canada's inflation problem on BoC governor Tiff Macklem and Prime Minister Justin Trudeau. Poilievre has proposed firing Macklem and has coined the term "Justinflation" to characterize the problem.
During the Covid-19 pandemic, BoC governor Tiff Macklem told Canadians that inflation worries were overblown and that the central bank would keep inflation within the 1-3% target range.
Further, the Trudeau government dumped hundreds of billions of dollars into the economy during the pandemic, running a $327 billion deficit during the fiscal year 2020/21 and a projected $144 billion deficit for 2021/22.
With prices for most goods rising, the vast majority of Canadians have admitted to needing to cut back on their expenses, with a quarter of Canadians admitting to going into debt to keep up with everyday expenses.
Canada's year-over-year inflation reached 7.6% in July despite rapid interest rate hikes from the Bank of Canada and reassurances from the Trudeau government.