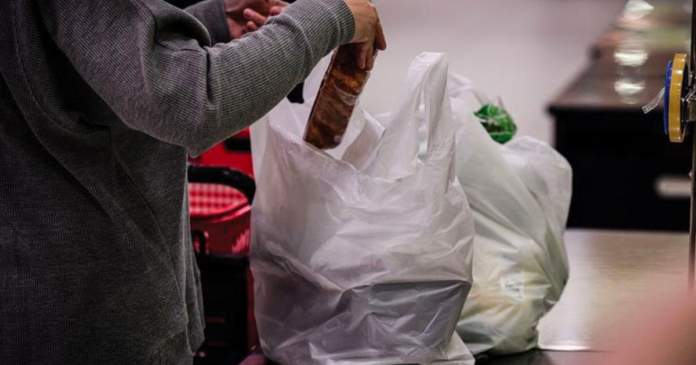 The City of Calgary's proposed single-use plastics ban would fine businesses $250 for "offences" like providing unsolicited plastic cutlery or providing shopping bags without charging a fee.
Calgary is the latest Canadian city to follow the Trudeau Liberals' efforts to reduce plastics by placing the onus on businesses. 
The city's proposed "Single-Use Items Bylaw" targets plastic cutlery and shopping bags with minimum fines for businesses beginning at $250 and doubling or tripling with repeated offences.
A city report says single-use items are often unnecessary and provided only for convenience.
"Single-use items result in negative environmental impacts at all stages of their life cycle," the report says.
"The City of Calgary has developed a single-use items reduction strategy to prevent and reduce waste from single-use items regardless of material."
Items being considered for the ban include, but are not limited to, spoons, forks, knives, chopsticks, utensils, straws, stir sticks, splash sticks, cocktail sticks, toothpicks, pre-packaged condiments and napkins.
Under the bylaw, a business can only provide plastic cutlery if a customer asks for it.
The proposal would also ban businesses from providing new shopping bags to customers unless the bag is paper made from at least 40% recycled material or a reusable shopping bag.
The bylaw also lays out minimum costs businesses must charge for these bags. Beginning Jan. 16, 2024, a new paper bag must cost a minimum of 15 cents, or $1 for a reusable shopping bag. Those costs would increase one year later to 25 cents and $2 for paper bags and reusable bags, respectively. 
If the paper shopping bag doesn't indicate that it's made from 40% recycled material, a bylaw enforcement officer can request documentation to ensure the shopping bag meets the criteria. 
A 2011 research paper produced by the Northern Ireland Assembly found that it "takes more than four times as much energy to manufacture a paper bag as it does to manufacture a plastic bag."
Offences punishable by $250 include providing a bag to a customer that is not reusable or paper, providing a bag to a customer who did not request one, failing to indicate the bag cost as a separate line item on a customer's receipt, failing to produce documentation for bylaw enforcement officers, and providing any foodware accessory to a customer when the customer did not request one.
If a person is convicted of the same provision of the bylaw twice within a two year period the penalty would double. If a person is convicted of the same provision of this bylaw three or more times within a two-year period, the fine is tripled.
The bylaw would come into force on January 16, 2024.
In the city's strategy plan, it says businesses will benefit from the bylaw because it will reduce the business' operation costs.
"Businesses would retain revenues from the mandatory minimum fee on single-use and new reusable shopping bags, offsetting costs they might incur for purchasing non-plastic alternatives." 
Under the "social" implication category, the city says they would be "unintended consequences" of the bylaw on "equity-seeking groups."
The City of Edmonton is also considering banning businesses from offering customers single-use plastic items like shopping bags and foam cups. That bylaw is proposed for June 2023.
Citizens advocacy group Common Sense Edmonton has started a petition to stop the proposed ban, which it says will hurt consumers while providing no benefit to the environment.
We're asking readers, like you, to make a contribution in support of True North's fact-based, independent journalism.
Unlike the mainstream media, True North isn't getting a government bailout. Instead, we depend on the generosity of Canadians like you.
How can a media outlet be trusted to remain neutral and fair if they're beneficiaries of a government handout? We don't think they can.
This is why independent media in Canada is more important than ever. If you're able, please make a tax-deductible donation to True North today. Thank you so much.