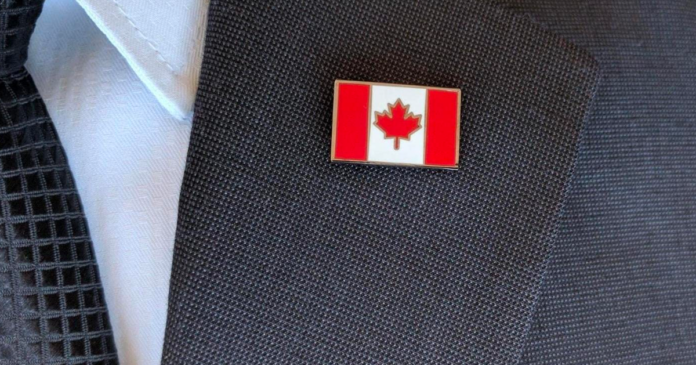 In an effort to boost national pride, including on Remembrance Day and Flag Day, the Trudeau government has bought millions of Canadian flag pins from China.
According to the Globe and Mail, the Department of Canadian Heritage confirmed that over six million lapel pins purchased since 2020 were all made in China. The Chinese-made flags have cost the government $345,000.
The pins will be distributed to elected officials to hand out to the public. They are also handed out at public events organized by Canadian Heritage. 
The Department of Canadian Heritage says the government is bound by international trade rules and is unable to give preference to Canadian businesses for products worth more than $100,000.
"Approximately one million national flag of Canada plastic lapel pins and 14,000 floating flag of Canada pins are distributed annually," said spokeswoman for Canadian Heritage Caroline Czajkowski.
"The procurement of six million pins took place over the last two fiscal years to replenish stock and cover multiple years of distribution."
Conservative MP Tony Baldinelli said he was shocked when he learned the origin of the pins.
"Surely at a time when Canadian businesses are struggling to recover from a two-year-long pandemic, our Canadian government could procure these pins from Canadian manufacturers," said Baldinelli.
On Wednesday, Foreign Affairs Minister Melanie Joly said Canadians should be weary of doing business in China and consider the "geopolitical risks." The government is expected to unveil its new China strategy in the coming months.
"What I would like to say to Canadians doing business in and with China: you need to be clear-eyed," Joly said during an event at the University of Toronto's Munk School of Global Affairs and Public Policy.
"The (decisions) you take as businesspeople are your own. As Canada's top diplomat, my job is to tell you that there are geopolitical risks linked to doing business with the country."
Despite its new approach to the Chinese Communist regime, critics continue to slam the Trudeau government for its lack of action on national security.
Following a Global News report that Canadian intelligence officials warned Prime Minister Trudeau that China had allegedly targeted Canada with a vast campaign of foreign interference, former Conservative MP Kenny Chiu told True North that despite being briefed on China's interference in Canadian politics, the Trudeau government has set the issue on the sidelines with nobody in power paying attention.
"Compared to other Western democracies that have done something substantial to safeguard their democracies and national sovereignty, Canada has done barely anything," Chiu told True North.