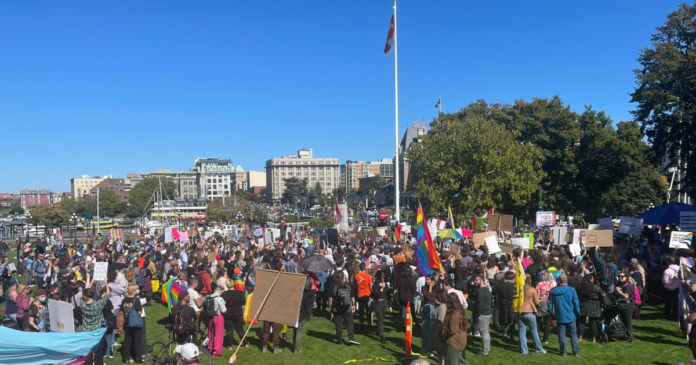 Notable women's rights advocate Meghan Murphy was only five minutes into her speech at the Victoria, B.C. 1 Million March 4 Children parental rights rally when police told organizers to shut down the event and leave.
The march planned for later that afternoon never happened, as Victoria police (VicPD) ordered an end to the protest within 15 minutes of it starting on Wednesday, Murphy told True North.
Murphy, as well as other rally speakers and organizers, were demonstrating on the B.C. legislature grounds in support of parental rights and removing gender identity ideology from school curricula.
According to VicPD, "At approximately 12:30 p.m., counter-protesters pushed past police and rushed the stage, creating an unsafe environment, and a decision was made to cease further planned activities."
Two arrests were made.
A contingent of rainbow-wearing counter-protesters, some of whom support sex change surgeries for minors and giving information about fringe sex acts to preteens, was of a distance from the main protest. However, busloads of young counter-protesters wearing black hoodies began arriving at the grounds, and streams of the masked agitators headed straight for the stage.
Murphy said VicPD was to blame.
"The Victoria Police had committed to keeping the protesters away, there wasn't supposed to be any physical contact between the counter-protesters and the people there to attend the rally, many of whom are parents, moms with kids, elderly women," Murphy recounted.
"The police didn't even attempt to separate protesters from us."
Murphy said that a counter-protester rushing the stage punched a police officer in the head and was promptly tackled to the ground by other officers. At that point, police shut down the entire affair.
"It's really weird that the cops just let everything happen… they didn't even attempt to control the crowd," she said.
Police and security escorted Murphy to her car when she left.
"Following escalating tensions at a large demonstration in front of the BC Legislature today, with approximately 2,500 people in attendance, VicPD Officers are asking citizens to leave, and for others to avoid the area," the department stated in a September 20 community notice.
Murphy said the protest was important to stand up to the "lie" being pushed on parents.
"I know how many parents are upset at what their kids are exposed to and learning at school… what kids are being taught in school is confusing and dangerous," she said.
"To teach a child that a boy can become a girl or he can actually be a girl on the inside is a lie. I can't believe they're teaching this in school – it's like teaching religion in school. That's not allowed in public schools, so I don't know why this is."
Dozens of 1 Million March 4 Children protests with hundreds or even thousands of attendees took place across the country, but the Victoria event was the only one shut down by police.