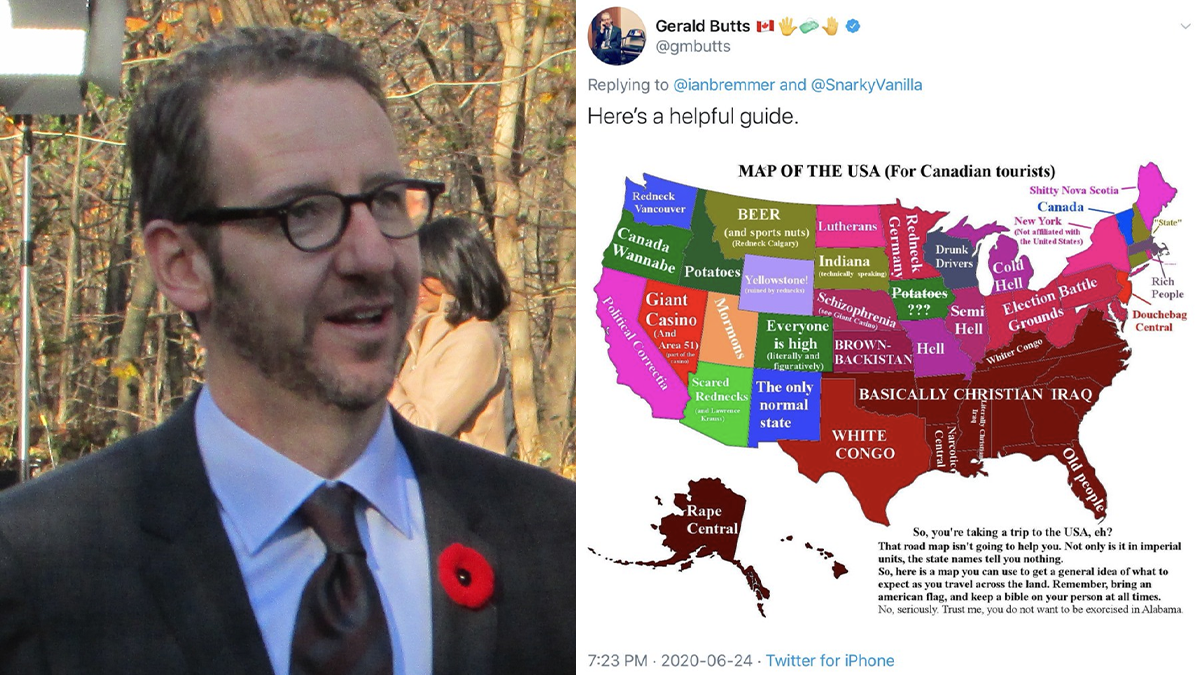 Prime Minister Justin Trudeau's close friend and former adviser Gerald Butts has apologized for tweeting an offensive meme map referring to certain parts of the US as "white Congo" and "Christian Iraq," among other pejoratives.
Butts, who was once Trudeau's principal secretary, tweeted the map in response to a tweet by Ian Bremmer with the comment "Here's a helpful guide."
Bremmer is the president of the Eurasia Group, where Butts is currently employed.
The map included several derogatory names for states and regions including "Scared Rednecks" for the state of Arizona, "Old people" for Florida, and "Rape Central" for the state of Alaska.
Butts and Bremmer have since deleted their tweets, but screenshots of the interaction show Butts saying "It is however very funny," followed by a response from Bremmer affirming "Idaho is correct."
Many people responded to the tweet by pointing out the insulting and offensive nature of the image.
When confronted by another Twitter user regarding the tweet, Butts apologized for posting the image and said that he was "mortified."
"… it was a mistake to post it without reading it more closely, and I'm both sorry and mortified that I did," tweeted Butts.
In 2019, Butts stepped down from his position in the Prime Minister's Office following his implication in the SNC-Lavalin scandal coming to light.
Former attorney general Jody Wilson-Raybould accused Butts and other members of the PMO of inappropriately pressuring her to intervene in the engineering giant's favour during an ongoing criminal prosecution at the direction of the prime minister.
Butts denied wrongdoing but said he was resigning so as not to be a distraction. He later joined Justin Trudeau's re-election campaign.
We're asking readers, like you, to make a contribution in support of True North's fact-based, independent journalism.
Unlike the mainstream media, True North isn't getting a government bailout. Instead, we depend on the generosity of Canadians like you.
How can a media outlet be trusted to remain neutral and fair if they're beneficiaries of a government handout? We don't think they can.
This is why independent media in Canada is more important than ever. If you're able, please make a tax-deductible donation to True North today. Thank you so much.