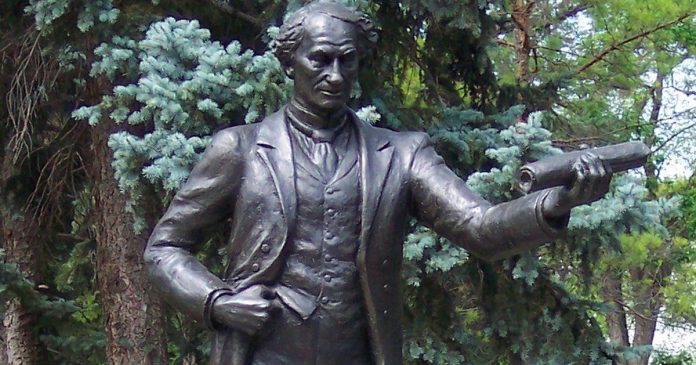 Regina City Council will be voting on the removal of a statue of Sir John A. Macdonald, Canada's first prime minister.
On Wednesday, the council is scheduled to vote on a report that recommends the statue be removed. If adopted, the statue will be put in storage for a year, after which it will be moved to "an appropriate future location."
"Through the research and conversations completed to date, administration has determined that the existence of the statue, and in particular, its prominent placement in Victoria Park is viewed by many in the Indigenous community as a relic from a time prior to the City of Regina's endorsement and commitment to Truth and Reconciliation," the report reads.
The statue was placed in Victoria Park as part of the 1967 Canadian centennial. The report estimates the removal will cost between $25,000-$35,000.
The report claims removing the statue would be justified because of Sir John A. Macdonald's policies towards First Nations and would act as a "decisive action perceived as commitment to Reconciliation"
"Specifically, the statue stands in commemoration of Sir John A. Macdonald's legacy as a founder of Confederation and the first prime minister of Canada, but without context to support broad understanding of the impact of his policies on Indigenous peoples and other ethno-cultural communities," the report continues.
In recent years, the memory of Sir John A. Macdonald has been heavily criticized in leftist circles, leading to his name and likeness being removed from multiple public spaces. Statues of the first prime minister have also been defaced across Canada.
Council will also be voting on a separate report that recommends renaming Dewdney Pool to "Buffalo Meadows Pool." Edgar Dewdney was an MP and lieutenant-governor of both the North-West Territories and British Columbia in the nineteenth century.
We're asking readers, like you, to make a contribution in support of True North's fact-based, independent journalism.
Unlike the mainstream media, True North isn't getting a government bailout. Instead, we depend on the generosity of Canadians like you.
How can a media outlet be trusted to remain neutral and fair if they're beneficiaries of a government handout? We don't think they can.
This is why independent media in Canada is more important than ever. If you're able, please make a tax-deductible donation to True North today. Thank you so much.