One of the "independent" senators recently appointed by the Trudeau government made multiple donations to the Liberal Party of Canada.
On Thursday, the government announced the appointment of five members into the Red Chamber. Amina Gerba was hand-picked by the prime minister to represent Quebec, alongside Michèle Audette, Clément Gignac, David Arnot and Karen Sorensen.
Gerba, described as an "ambassador for Afro-optimism" in her Government of Canada website biography, donated $500 to the Liberal Party in 2019, $454.80 to the Ahuntsic–Cartierville Federal Liberal Association in 2019 and $250 to cabinet minister Mélanie Joly's nomination campaign in 2015, according to Elections Canada records. Gerba also made donations to the New Democrats in 2015.
Gerba made some of the political donations using her full name – Amina Nleung–Abah Gerba.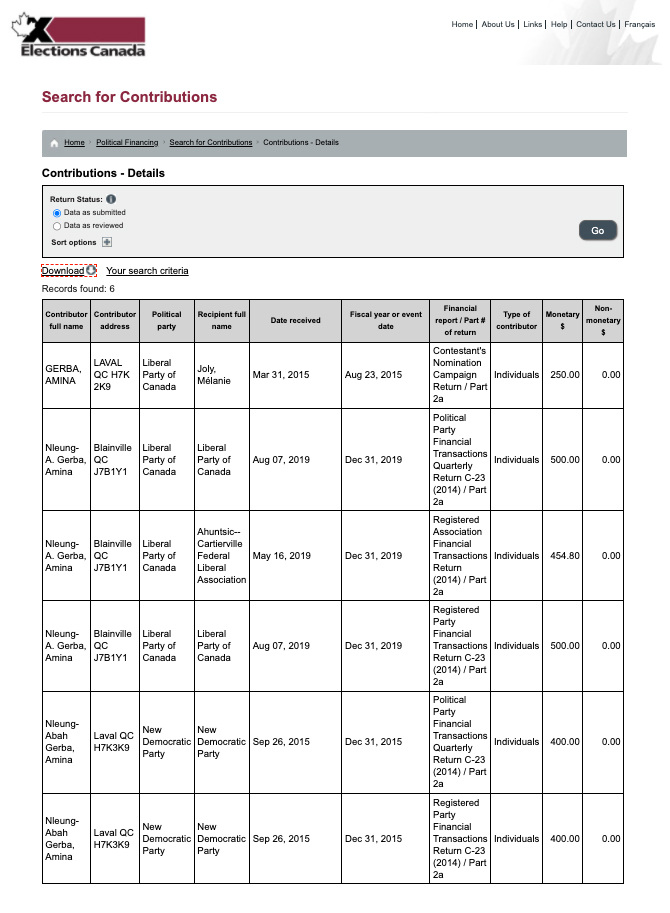 The Independent Advisory Board for Senate Appointments (IABSA) claims new Senate appointments are "recommended by the IABSA, and chosen using the merit-based process open to all Canadians."
This process is supposed to "ensure Senators are independent, reflect Canada's diversity, and are able to tackle the broad range of challenges and opportunities facing the country."
However, the government made no mention of Gerba's support of the Liberal Party at the time of her appointment. 
Many opposition politicians criticized Trudeau when he first founded the IABSA in 2016. The board was supposed to avoid the partisanship associated with Senate appointments, but many argued that it merely offers Trudeau more discretion on who gets selected.
In 2017, independents voted with the government 94.5% of the time.
True North reached out to Senator Amina to inquire about her connections to the Liberals but did not hear back in time for publication of this article.
This isn't the first time an "independent" senator was found to have ties to the Liberal Party. In June, Trudeau appointed Bernadette Clemen – a former two-time Liberal candidate.
Both in 2011 and in 2015, Clement ran as a candidate for the Liberal Party of Canada in Ontario and lost both times to former Conservative MP Guy Lauzon. 
Earlier this week, Alberta Premier Jason Kenney called out the Prime Minister for his recent Senate appointment in Alberta, claiming Trudeau showed "contempt for democracy" by appointing a Banff mayor Karen Sorenson to represent the province ahead of the senate elections.
"The Prime Minister knows full well that Alberta will be holding elections for Senate nominees in October of this year. I personally informed him of our forthcoming Senate elections at our July 7, 2021 meeting in Calgary," Kenney said in a statement.
"[I] told him that the Alberta Legislature had adopted a motion calling on the Prime Minister not to fill the two current senate vacancies, but to wait for Albertans to choose their own preferred Senate candidates."
We're asking readers, like you, to make a contribution in support of True North's fact-based, independent journalism.
Unlike the mainstream media, True North isn't getting a government bailout. Instead, we depend on the generosity of Canadians like you.
How can a media outlet be trusted to remain neutral and fair if they're beneficiaries of a government handout? We don't think they can.
This is why independent media in Canada is more important than ever. If you're able, please make a tax-deductible donation to True North today. Thank you so much.