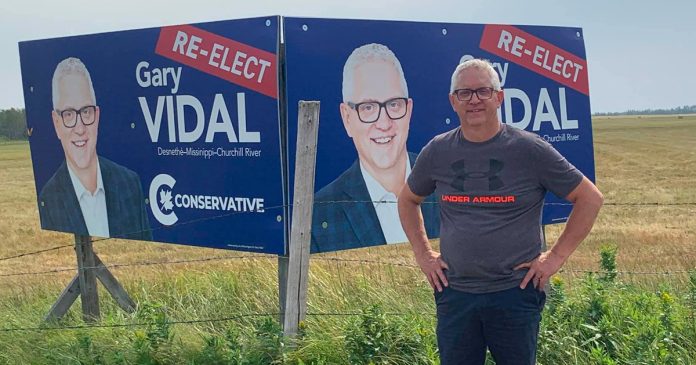 Northern Saskatchewan candidate Gary Vidal is asking rural voters to consider the Liberal government's poor record when it comes to issues important to them like rural crime when they vote in the upcoming election.
In an interview with the Prince Albert Daily Herald, the Desnethé—Missinippi—Churchill River candidate, who served as an MP in the last parliament, said the Liberals have turned a blind eye to rural Canadians.
"I asked the prime minister a question on rural crime and I got an answer that was a nothing answer. I challenged (Public Safety Minister) Bill Blair on rural crime… I've sent letters recently to the minister of agriculture on the drought conditions and the challenges to the ranchers," Vidal said.
Vidal pointed to promises by Conservative Leader Erin O'Toole to connect rural communities to high-speed internet services and creating a new cabinet position dedicated solely to rural issues as evidence that his party takes the matter seriously. 
"O'Toole talked about building a digital infrastructure to connect all of Canada's high-speed internet by 2025," Vidal told the Prince Albert Daily Herald.
"He's committed to appointing a minister of rural affairs to the cabinet – somebody that will sit at the cabinet table and will speak on behalf of rural Canadians. So, this is a way to get that voice to the table. He's committed to tackling rural crime… Infrastructure funds would be set aside specifically for rural projects, rather than just urban projects."
Included in the recently-unveiled Conservative election platform is a series of promises dedicated to addressing rural issues.
The platform includes implementing a national plan to tackle rural crime, improve access to rapid COVID-19 testing in rural communities and bridging the digital connectivity gap for Indigenous communities living on reserves or in remote areas.
O'Toole's platform builds off of recent legislation introduced by the Conservatives, including Conservative candidate Blaine Calkins' Private Member's Bill C-289 which would amend the criminal code to offer more protections to victims targeted because they live in rural settings.
In June, Conservative candidate Damien Kurek similarly chastised the Liberals for being "absentees" on the issues important to rural voters. 
We're asking readers, like you, to make a contribution in support of True North's fact-based, independent journalism.
Unlike the mainstream media, True North isn't getting a government bailout. Instead, we depend on the generosity of Canadians like you.
How can a media outlet be trusted to remain neutral and fair if they're beneficiaries of a government handout? We don't think they can.
This is why independent media in Canada is more important than ever. If you're able, please make a tax-deductible donation to True North today. Thank you so much.