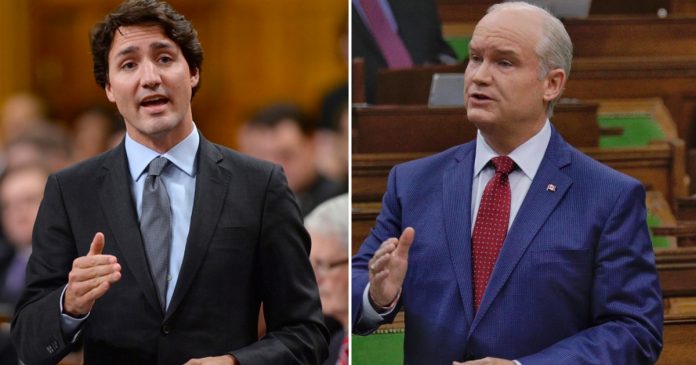 Conservative Leader Erin O'Toole wrote to Prime Minister Justin Trudeau to warn him about the looming crisis in Afghanistan in July, prior to Trudeau calling the federal election.
On Thursday, O'Toole tweeted a copy of the letter he wrote to Trudeau on July 22, 2021.
"The withdrawal of American military forces and NATO partners in Afghanistan have given rise to a sharp increase in Taliban activity in certain provinces," read the letter.
In the letter, O'Toole was particularly concerned about Afghan interpreters who assisted the Canadian Armed Forces during Canada's mission in the country.
"As Afghan interpreters plead for assistance from your government to flee from these threats of danger, your government remains silent," O'Toole wrote.
"Members of the Canadian Armed Forces who served alongside these Afghan interpreters are pleading for your government to listen to their calls. We must do the right thing and support them at a time when they need us most."
On Thursday, O'Toole said Trudeau "wasted months with inaction" and called an election in the middle of the humanitarian crisis in Afghanistan. "The Trudeau government failed to act, and they have abandoned people on the ground," O'Toole said.
Trudeau defended his government's reaction to the crisis during a campaign stop in Quebec on Thursday.
"We have been working day and night over the past months, past weeks to get as many people out as possible. So I understand the heartbreak to those who were not able to get out as the temporary air bridge is closing," Trudeau said.
"We will continue to work with partners, with allies, with regional partners to make sure we're continuing to do everything we can both to bring tens of thousands of Afghans with their families to Canada, but also to keep putting pressure on the Taliban to ensure that people can leave Afghanistan."
Critics of Trudeau argued that his decision to call a snap election was unnecessary and was an attempt to gain a majority government.
In a recent poll by Leger, 62% of Canadians described the 2021 election as a "power grab" by Trudeau and 69% of Canadians believe that the "election could have waited until next year or later."
Following the end of Canada's military mission in Afghanistan on Thursday, an unknown number of Canadians and their families remain trapped in the country.
Global Affairs Canada sent an email telling citizens that the Canadian evacuation effort in Afghanistan had officially ended and no more evacuation flights were coming. Canadians were instructed to "shelter in place."
We're asking readers, like you, to make a contribution in support of True North's fact-based, independent journalism.
Unlike the mainstream media, True North isn't getting a government bailout. Instead, we depend on the generosity of Canadians like you.
How can a media outlet be trusted to remain neutral and fair if they're beneficiaries of a government handout? We don't think they can.
This is why independent media in Canada is more important than ever. If you're able, please make a tax-deductible donation to True North today. Thank you so much.