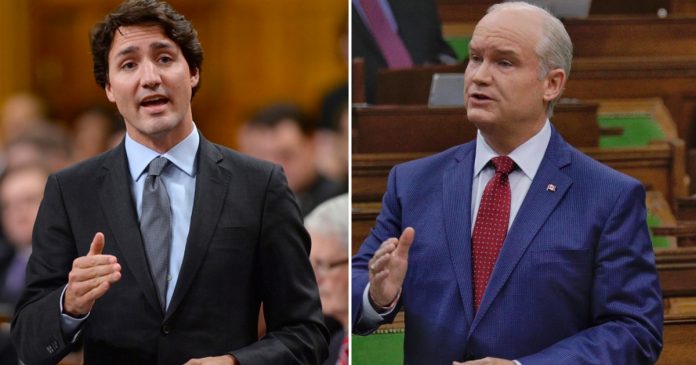 Canadians' lives are getting harder, not easier under Justin Trudeau's watch, according to Conservative leader Erin O'Toole.
O'Toole reacted to a new Statistics Canada report showing the Canadian economy is facing serious roadblocks on its road to economic recovery.
"Under Justin Trudeau, Canada's economy is getting worse, not better," said O'Toole.
"The reports give us a sobering reminder of the fragility of our economy. It confirms what Canadians already knew… Life is getting harder, not easier. Under Justin Trudeau, we're heading further down the road of recession, not the road to recovery."
According to the Statscan report, the Canadian economy unexpectedly contracted in the second quarter (Apr. 1 to June 30) and again in July. Canada is the only G7 country to experience a deceleration in the second quarter, according to an Organisation for Economic Co-operation and Development (OECD) report.
Real GDP declined 0.3% from April to June due to declines in home resale activities and exports. A preliminary estimate shows a further 0.4% fall in real GDP in July. The main decreases in the second quarter were in manufacturing, construction and retail trade.
Inflation and affordability are also becoming bigger issues for Canadians as the cost of everyday goods for Canadians has increased. An August StatsCan report shows that Canada's inflation rate in July was 3.7% — almost double the 2% target.
Speaking to reporters on Tuesday, Trudeau claims that while parts of the economy remain weak, the economy overall is roaring back.
O'Toole believes that the Conservatives' recovery plan "will stop the out of control spending, borrowing and debt that's gotten us into this mess."
According to the Conservative plan, if elected, an O'Toole government will recover one million jobs that were lost during the pandemic and balance the budget within a decade.
The Trudeau government has created a deficit of over $350 billion with no plan to rein in spending or balance the books. As a result of Trudeau's spending, Canada's debt now exceeds $1 trillion. 
We're asking readers, like you, to make a contribution in support of True North's fact-based, independent journalism.
Unlike the mainstream media, True North isn't getting a government bailout. Instead, we depend on the generosity of Canadians like you.
How can a media outlet be trusted to remain neutral and fair if they're beneficiaries of a government handout? We don't think they can.
This is why independent media in Canada is more important than ever. If you're able, please make a tax-deductible donation to True North today. Thank you so much.