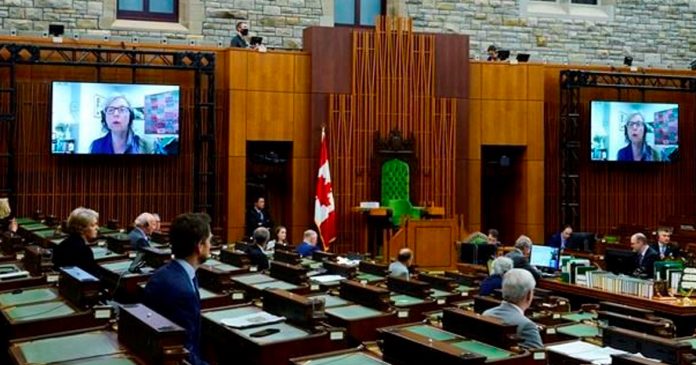 Earnings for Canadian members of parliament have increased by thousands of dollars over the last decade despite there being fewer sitting days, according to a report from the Canadian Taxpayers Federation.
The CTF's analysis examined sitting days in the House of Commons over 10 years and found it was scheduled for 33 fewer days each year than a decade ago.
In 2012, the House of Commons sat for 129 days. There will be 96 sitting days for 2021.
This year marks the third in a row that the House of Commons will sit for less than 100 days. The year of the 2011 Canadian election included more sitting days than each of the last three years.
"Taxpayers expect their MPs to deliver accountability," said CTF federal director Franco Terrazzano. "But politicians are spending significantly less time in the House of Commons debating policies and expect taxpayers to pay their higher salaries."
An analysis done by the Globe and Mail found between 1945 and 1975, the House of Commons sat for 138 days on average. Since this timeframe ended, the chamber has been in session for 123 days per year on average. After the Liberals formed government in 2015, the chamber has sat for about 106 days on average during the last five calendar years.
Despite sitting for fewer days, MPs are making more money. Over the last 10 years, the prime minister's annual salary has increased by $54,560, salaries for ministers have gone up by an average of $40,094, and backbench MP salaries went up by $27,280.
MPs received two pay raises during the COVID-19 pandemic. Another is scheduled for 2022.
Terrazzano said MPs pocketing two pay raises during the pandemic is disrespectful to the millions of Canadians struggling – many because of government-imposed restrictions.
"It shouldn't be rocket science, and taxpayers expect our politicians to do the right thing and reverse their pandemic pay raises when Parliament resumes," said Terrazzano.
Heather Bradley, the communications director for the Office of the Speaker of the House of Commons, did not respond to a request for comment.