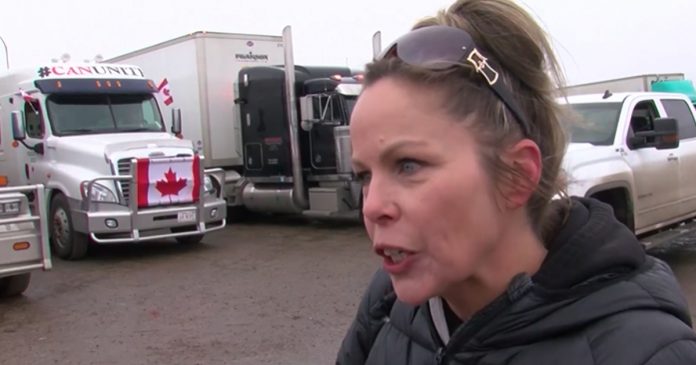 Crown lawyers want to see Freedom Convoy organizer Tamara Lich sent back to jail for accepting an award from the Justice Centre for Constitutional Freedoms (JCCF).
Lich is scheduled to receive the organization's George Jonas Freedom Award on Jun. 16, but Ottawa prosecutors are arguing that doing so is a breach of her bail conditions.
Lich was jailed after being arrested by police while helping to lead the Ottawa Freedom Convoy protest in February. She then spent 18 days in custody over charges including mischief, obstructing a peace officer and others related to her time leading the demonstrations.
Her bail was initially denied on Feb. 22, but a bail review on Mar. 7 saw a different judge overturn that decision, saying "the bail justice used subjective considerations, not an objective comparison…. This is an error in law (and it's) not minor."
Lich was then released under conditions involving supervision.
However, lawyers representing the federal government are now saying that the judge who granted bail made several errors of law of his own. They have filed an application to have his decision to release Lich overturned.
If the application is approved, Lich would be sent back into prison until her trial. 
The lawyers are also arguing that Lich breached conditions set by the court "not to verbally, in writing, financially, or by any other means, support anything related to the Freedom Convoy."
"Tamara Lich has continued her support of the Convoy cause with the assistance of the Justice Centre for Constitutional Freedoms," the application claims.
Federal prosecutors also pointed to an alleged "collaborative and representative" relationship between the JCCF and Lich.
The JCCF – a legal advocacy organization and registered charity – is involved in several legal challenges to federal and provincial Covid mandates and restrictions.
A judge is set to hear the application in Ottawa on Thursday and Friday. According to bail conditions, Lich is barred from entering Ontario other than for trial appearances and must reside in Alberta.
Lich is also expected to ask the judge to alter her bail conditions related to social media use and travel.