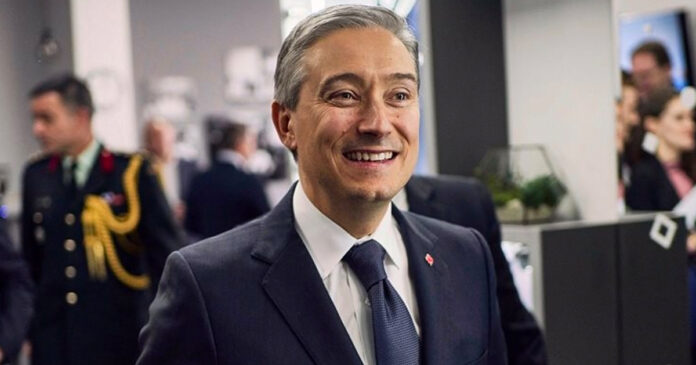 Canada's industry minister Francois-Philippe Champagne will be addressing World Economic Forum (WEF) delegates in Davos on the "jobs of tomorrow."
According to a draft agenda for the WEF's upcoming annual meeting in the Swiss Alps, Champagne will appear on a panel alongside Bangladesh's education minister, Dipu Moni, and finance minister Mikael Damberg of Sweden.
"From care, education and health to green energy, infrastructure and digital, the jobs of tomorrow may emerge in several growing sectors of the global economy," the program text says.
The panel proposes to answer how "targeted investments and policies ensure such job creation and support workers in transitioning to them."
The meeting, which runs Monday to Thursday, marks the first in-person edition of the WEF's flagship event since January of 2020.
Other speakers include Bill Gates, former Bank of Canada governor Mark Carney and Ukrainian president Volodymyr Zelensky. 
Requests for Global Affairs Canada to provide a list of members of the Canadian delegation going to Davos have gone unanswered. It's not clear if Deputy Prime Minister Chrystia Freeland, who sits on the WEF's trustee board, will be attending.
True North will be on the ground in Davos starting Saturday, reporting on the WEF and its annual meeting, which the organization says will "bring together over 2,000 leaders and experts from around the world, all committed to a 'Davos Spirit' of improving the state of the world."
This year's conference promises to be the "starting point for a new era of global responsibility and cooperation."
Champagne appeared at the WEF's virtual conference last year, as did Freeland and then-health minister Patty Hajdu. True North reported exclusively that part of Hajdu's panel discussion on closed borders and pandemic travel restrictions took place behind closed doors.
In January, WEF chairman Klaus Schwab released a new book, The Great Narrative, about "how we can shape a constructive, common narrative for the future." This book was a follow-up to his 2020 manifesto COVID-19: The Great Reset, which tried to seize what Schwab called "a unique window of opportunity" to reshape the economy and the "social contract" amid the global pandemic.
The Trudeau government has close ties to the WEF, giving the organization $2.9 million last year for "conservation measures."
A Canadian broadcaster and columnist, Andrew serves as a journalism fellow at True North and host of The Andrew Lawton Show.
We're asking readers, like you, to make a contribution in support of True North's fact-based, independent journalism.
Unlike the mainstream media, True North isn't getting a government bailout. Instead, we depend on the generosity of Canadians like you.
How can a media outlet be trusted to remain neutral and fair if they're beneficiaries of a government handout? We don't think they can.
This is why independent media in Canada is more important than ever. If you're able, please make a tax-deductible donation to True North today. Thank you so much.