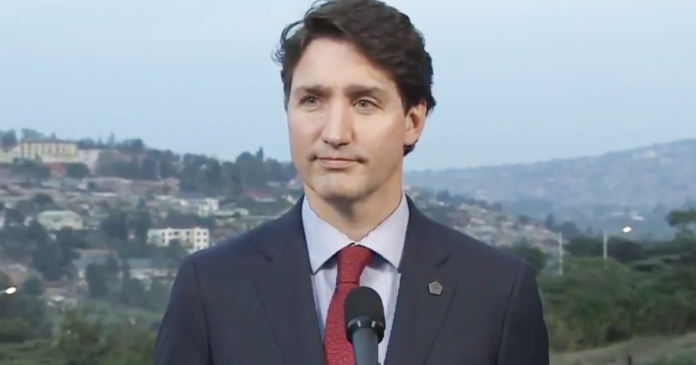 As the Liberal government moves to increase a number of taxes in the coming year and fears of a recession continue to grow, Prime Minister Justin Trudeau is warning Canadians that 2023 will be "tough."
The cost of living grew significantly throughout the last year – impacting essential items such as food, fuel and medicine.
In a year-end interview with Global News, Trudeau was asked about the gloomy economic forecast for 2023. The PM answered, "Next year is going to be tough, too. It's going to be a tough year."
"The coming winter is going to be tough for people, and that's where we need to continue to pull together."
Trudeau pointed to "direct supports" from the government, such as the GST rebate, dental care and rental support, as ways the government is helping struggling Canadians. 
However, critics of the government have pointed out that the feds will increase a number of taxes in the new year, which will impact the wallets of Canadians who are already reeling from the inflation crisis.
The Canadian Federation of Independent Business is warning that scheduled 2023 payroll tax hikes will mean that every Canadian will see $305 less in take-home pay on the first day of the year.
Beginning on Jan. 1, Canada Pension Plan premiums will go up to 7.3%, costing up to $255 more in contributions per employee. On the same day, Employment Insurance premiums will increase by 5.2%. 
In addition, the Trudeau government's controversial carbon tax is expected to increase in 2023.
According to the Canadian Taxpayers Federation, the federal government is giving Quebec a "special deal" on carbon taxes while the rest of the country has to fork up 14 cents per litre of gas by next year.
All provinces besides Quebec will have to raise the carbon tax on fuel to 37 cents per litre by 2030.
As reported by True North, some Canadian farmers will have to pay upwards of $136,000 a year by 2030 should the Liberal government continue to raise the carbon tax.
While the Christmas season is supposed to be a time of joy and celebrations, more Canadians than ever are struggling to afford holiday spending due to the rising cost of living. BMO's Real Financial Progress Index found that 77% of those surveyed said their Christmas shopping has been impacted by growing inflation.