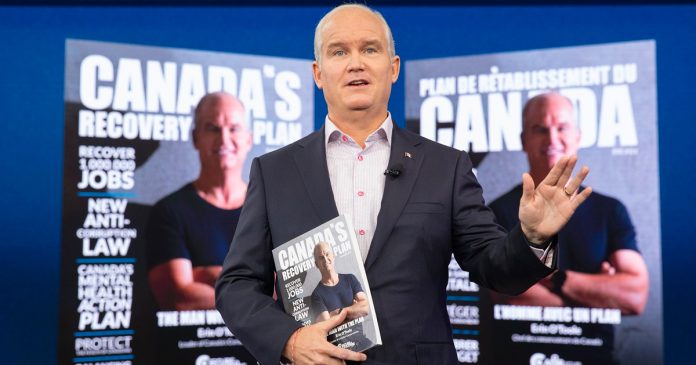 The Conservative Party of Canada (CPC) has voted to remove Erin O'Toole from the party's helm following months of brewing discontent regarding his leadership.
The CPC Caucus met on Wednesday morning to decide the fate of the embattled former leader and the future direction of the official opposition.
Members voted by a margin of 28 to have O'Toole step down during a virtual meeting. The final tally was 73 – 45.
O'Toole's troubles began with his 2021 election performance which saw the party gain no seats in the House of Commons and fail to defeat Prime Minister Justin Trudeau.
Yesterday, reports indicated that O'Toole was hurrying to curry favour with the caucus and securing votes among MPs by promising a leadership review earlier than the scheduled date of Aug. 2023.
He also claimed that with himself gone from the party's top post, the CPC would veer towards the "angry, negative, and extreme" and that it would become the "NDP of the right."
Initial rumblings were levelled at O'Toole for steering the party towards the centre and breaking several key election promises involving firearms rights, carbon taxes and free votes in Parliament.
O'Toole had also sharply rebuffed early attempts by several key Conservatives to hold an early leadership review.
When Senator Denise Batters launched a campaign and petition in Nov. 2021 calling for a review within six months, O'Toole had her removed from caucus. An earlier petition for a review by former Conservative National Council member Bert Chen led to an investigation into Chen followed by a suspension.
On Jan. 31 2022, 35 Conservative MPs signed onto a letter demanding O'Toole face a caucus review. Garnett Genuis was among the signatories and one of the first CPC MPs to publicly question O'Toole's leadership.
On Twitter, Genuis accused the former leader of launching "false personal attacks against members of his own team."
"This is the kind of division that is tearing at our party and it must come to an end. We need leadership that unites instead of divides," wrote Genuis.
With O'Toole gone, the party is set to elect an interim leader to steer the party as it prepares for a leadership race.
We're asking readers, like you, to make a contribution in support of True North's fact-based, independent journalism.
Unlike the mainstream media, True North isn't getting a government bailout. Instead, we depend on the generosity of Canadians like you.
How can a media outlet be trusted to remain neutral and fair if they're beneficiaries of a government handout? We don't think they can.
This is why independent media in Canada is more important than ever. If you're able, please make a tax-deductible donation to True North today. Thank you so much.