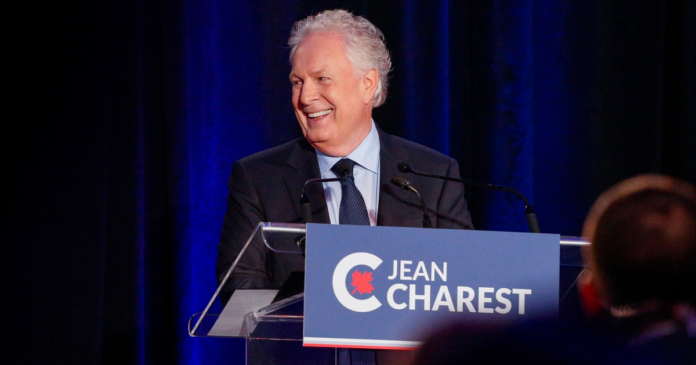 Conservative party leadership candidate Jean Charest said he would allow his cabinet to attend the World Economic Forum (WEF) summit in Davos.
The former Quebec Liberal premier made the comments in a social media video where he answered some of the most googled questions about him.
"Is Jean Charest a member of WEF?" a top Google search read – to which Charest said, "the answer is no."
He then said he'd been to the WEF summit and claimed every other Quebec premier has as well.
Charest explained that he was at the WEF to "sit in a room from nine o'clock in the morning until seven o'clock at night," and met "business leaders on a 45-minute rotation for three days."
"I don't go out skiing. It's not about dinners. It's all about business, business, business," Charest added.
Charest then said, "if any of my ministers go to the WEF, fine," adding "they have good judgment, they have a brain. They know what's good or right."
Charest also said that Canadians should not worry about the WEF, but rather the state of their country. "That's where the real issue is, it's not the WEF, it's about Canada."
Some Canadians have expressed worries about the WEF's agenda and influence, as well as the group's founder Klaus Schwab – who once boasted about having penetrated Prime Minister Justin Trudeau's cabinet and promoted a "Great Reset," which argues in favour of a new form of capitalism following the pandemic.
Despite accusations of "conspiracy theories" whenever concerns about the WEF or "Great Reset" are raised by Canadians, the WEF proudly discusses its initiatives and objectives online.
This is not the first time that Charest has dismissed concerns about the WEF. He previously said he refuses to "give credence to conspiracy theories about the WEF or otherwise."
Charest also said in French that does not think the WEF threatens Canada's national sovereignty.
True North reached out to the Charest campaign for additional comments, but they did not respond in time for publication.
Other leadership candidates including Pierre Poilievre and Leslyn Lewis have spoken out against the WEF.
Poilievre has pledged to ban ministers from attending the Davos summit, a proposal that Charest has called "nonsense."
Meanwhile, Lewis has pledged to oppose all WEF policies that undermine Canada's sovereignty.