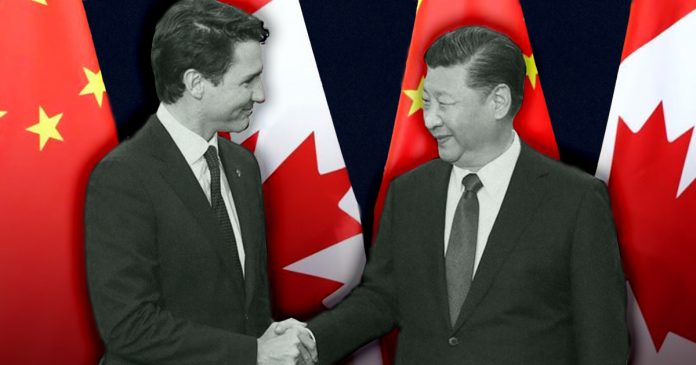 Over the last few years, the Chinese Communist regime has grown increasingly hostile towards the West. 
With regard to Canada, the Chinese government has proven itself to be belligerent and uncooperative. The refusal by Chinese authorities to grant access to the trials of Michael Kovrig and Michael Spavor to consular officials is the most recent instance of Chinese diplomatic hostility.
Even prior to the arrest of Huawei CFO Meng Wanzhou in 2019, Chinese state-media and officials were lashing out at Canada.
The following is a list of every single time that Chinese officials and state-media have insulted or downright degraded Canada on the international stage. 
March 28, 2021: Chinese consul-general calls Trudeau "running dog" of the US
"Boy, your greatest achievement is to have ruined the friendly relations between China and Canada, and have turned Canada into a running dog of the US. Spendthrift!!!" tweeted Li Yang.
March 23, 2021: China claims Canada has "ignoble" human rights record
"It must be pointed out that these countries, who proclaim themselves to be 'judges' of human rights and are keen to lecture others, have an ignoble record on human rights. They are not in the position to criticize China, much less to shift blames [sic] to China for what they have committed," said Chinese Foreign Ministry Spokesperson Hua Chunying.
"In the 1870s, the Canadian government included assimilation of indigenous people in its official agenda and openly advocated the killing of the Indian bloodline. Starting with indigenous children, residential schools were set up to carry out cultural genocide policies. Incomplete statistics show over 150,000 indigenous children were sent to such schools, of which more than 50,000 died of abuses."
March 14, 2021: Canada committing "gross interference" over Hong Kong
"By doing so, the Canadian side has grossly interfered in China's internal affairs. The Chinese side expresses its strong dissatisfaction and firm opposition and has lodged solemn representations to the Canadian side," the Chinese embassy wrote in a statement regarding a statement by Minister Marc Garneau.
"The attempt of Canada and a few western countries to undermine the stability of Hong Kong and hinder China's development is doomed to fail. The Chinese side urges the Canadian side to immediately stop meddling with Hong Kong affairs and China's internal affairs in any way. Otherwise, it would only cause further damage to China-Canada relations and will be met with strong reactions from the Chinese side."
March 2, 2021: Chinese state outlet calls Five Eyes alliance "axis of white supremacy"
"They have formed a US-centred, racist, and mafia-styled community, wilfully [sic] and arrogantly provoking China and trying to consolidate their hegemony as all gangsters do," the Global Times wrote.
"They are becoming a racist axis aimed at stifling the development rights of 1.4 billion Chinese."
February 23, 2021: China condemns House of Commons Uyghur genocide declaration
"They have been engaged in political manipulation on Xinjiang-related issues under the pretext of human rights, in an attempt to interfere in China's internal affairs and earn political capital by playing China card. How hypocritical and despicable!" the embassy said.
"They are still trying to continue to poke their nose into China in the 21st century. How arrogant and ignorant!"
February 8, 2021: Chinese embassy demands Canadian media promote Chinese interests
"We call on relevant Canadian media to abide by professional ethics, respect facts, distinguish right from wrong, and do more to promote China-Canadian friendship and mutual understanding between the two peoples, instead of being used by anti-China forces as a platform for disseminating disinformation, attacking and slandering China," wrote a spokesperson for the embassy.
February 2, 2021: China gives orders to Canadian media over Hong Kong positions
"We urge Canadian media to uphold the correct position on issues concerning China's sovereignty, territorial integrity and other major core interests, abide by the one-China principle, and not to provide a platform for the activities of 'Taiwan independence' forces so as not to send wrong signal," claimed the embassy.
January 12, 2021: China accuses Canadian media of "attacking and smearing"
"Some Canadian media have taken the COVID-19 pandemic as an opportunity to smear and attack China's political system, style of diplomacy and anti-pandemic response. The Chinese side expresses strong dissatisfaction and firm opposition to this," the embassy wrote.
"Smearing and pointing fingers will not help fight against the pandemic. We urge relevant media to respect the fact and stop irresponsible reports and attacking and smearing China."
October 28, 2020: China says Canada supports "anti-humanity Falun Gong cult"
"On October 27, the Canadian Foreign Minister made unwarranted accusations on China's freedom of religious belief in a statement on the so-called International Religious Freedom Day, which grossly interfered in China's internal affairs. We express strong dissatisfaction and firm opposition to this," a spokesperson with the Chinese embassy said.
"Meanwhile, as a country under the rule of law, China will never allow anyone to engage in illegal and criminal activities in the name of religion. 'Falun Gong' is an anti-humanity, anti-society, and anti-science cult banned by the Chinese government according to law. It is shocking that the Canadian government openly supports this cult."
May 6, 2020: Chinese communist propaganda outlet says Canada has "giant baby" mentality
"Like the US, Canada acts like a country with a self-centered 'giant baby' mentality who refuses to accept the fact which it is unwilling to believe," claimed the director of Fudan University's Research Center for Cyberspace Governance Shen Yi in a Global Times article.
"The coronavirus had struck a blow to their once vaunted 'superior' capabilities in responding to public health crises. The death rate from the coronavirus in Canada, higher than that of China, crushed their illusions and sense of superiority."
April 22, 2020: Embassy spokesperson claims Canadian-led open letter is "malicious slander"
"Recently, the Macdonald-Laurier Institute published the so-called open letter, falsely claimed that the roots of the pandemic are in a cover-up by China, carried out malicious slander and attacks on the Communist Party of China and the Chinese government, and grossly interfered in China's internal affairs," claimed remarks by the Chinese embassy's spokesperson.
"While China and the international community, including Canada, are fighting against the pandemic, it is immoral for the MLI to spread the so-called 'China's cover-up,' and there must be an ulterior motive behind this."
January 9, 2019: China accuses Canada of "white supremacy"
"The reason why some people are used to arrogantly adopting double standards is due to western egotism and white supremacy," Lu wrote.
"What they have been doing is not showing respect for the rule of law, but mocking and trampling the rule of law."
December 6, 2017: China's foreign minister attacks Canadian reporter for asking about human rights
"Your question is full of prejudice against China and arrogance … I don't know where that comes from. This is totally unacceptable," Minister of Foreign Affairs Wang Yi said at the time.
"Other people don't know better than the Chinese people about the human rights condition in China and it is the Chinese people who are in the best situation, in the best position to have a say about China's human rights situation."
September 6, 2016: China refers to Prime Minister Justin Trudeau as "little potato"
While Trudeau travelled through China during his trip to restore relations between the two countries in 2016, the prime minister earned the nickname "little potato."
The nickname came from the similarity between Trudeau's surname and the Mandarin word for potato "tudou."
Although the prime minister took the nickname as a compliment, critics and Canadians ridiculed the unseriousness of the entire trip.